In Menorca at this time of year, the anticipation of a decent downpour of rain followed by a few days of sun is only for one reason, the season of wild mushrooms. It is the perfect blend of replenishing rain after the dry summer, the descending temperatures and the still sunny days in between that allow for the germination of the island's wild mushrooms known in Menorcan as Esclata-sangs or Setas in Spanish.
Locals of all ages take to the fields and forests of the coast and inland to hunt for these little gems, which if you are lucky will be very large in size and plentiful. It's a common pastime and topic of conversation amongst almost everyone during these months; which area to go and look, how long for and where exactly you find them. Arriving home after a good few hours of squinting, hunting and bending over with a couple of kilos really is a prize. Not only for the effort involved to collect them, but also for their incredible flavor.
It is vital to say that like any wild mushrooms anywhere you need to know exactly what you are looking for, not to mistake them for a similar looking variety of poisonous nature.  A list with photos of the most common types can be seen here. Almost everyone sticks to the one type of Seta that they know, officially called Rovellón Lactarius sanguifluus, which is has a flat top, light red brown colour, often with patches of light green on the top and patches of darker green on the underside. Prices in the supermarkets for this type vary from €15 – €30/Kg depending on availability and whether they are from the island or the peninsular.  It goes without saying that the freshly picked local variety is considered the best.
The preparation, cooking and consuming of the wild mushrooms opens a whole other conversation frequently heard at this time of year.  Like any freshly picked fruit or vegetables, they must be carefully cleaned and inspected.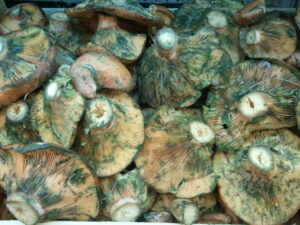 And how best to enjoy them?
Well this is a matter of opinion, which like any food is better to try every way and decide for yourself. The discovery process is more fun too.  The most common way is diced and cooked in olive oil with garlic and parsley and served with bread, in a roll or as a side. Alternatively they can be cooked the same way adding the Menorcan pork sausage, Sobrasada or Paprika to enhance the flavour. They are also delicious cooked on their own on a wood barbeque and served with meat, or added to paella for slightly special touch.

Truth be told the whole practice of finding, collecting, cooking and eating 'Esclata-sangs' is a process enjoyed several times over from start to finish in the space of a month or so.  Like many people say here, if you are very fortunate you will get to the point where you couldn't possibly eat any more, even though they are hard to resist!