The season of winter brings with it short periods of rain which set off the life cycle of certain flora and fauna, leaving inland forests and valleys bursting with colour and shades of green. Day trips in winter are a popular hobby of many Menorcans. Anam d'excurció, meaning 'Let's go on an excursion' is the local expression for these day trips and a general topic of discussion at this time of year. Thankfully quite often the weather permits and it's not uncommon to find families, friends and groups at many of the remote spots around the island every weekend. We will be sharing many of the best excursions around Menorca over the coming weeks and months.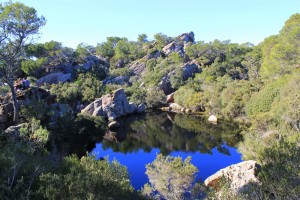 One well known spot is called Sa Bassa Verda, The Green Pond in English, is a beautiful big temporary pond in the height of its life cycle during these months.
Part 1:   Arrival by road
Sa Bassa Verda is located north east of the Algaiarens beaches which are north of Ciutadella. To get there follow the signs marked for Cala Morell and Algaiarens which are clearly indicated at the north eastern roundabout on the edge of the industrial area of Ciutadella. The road then splits in two indicating left for Cala Morell and right for Algaiarens or La Vall.
Part 2:   Arrival On foot
1.       Leave your vehicle in the designated car park for the beaches. Access to the track which leads to the pond is on the left of the car park, heading behind it in a north easterly direction, following the marked track called Cami de Cavalls.
2.       The first half of the journey is a beautiful easy straight forward stroll through fields, passing through three separate gates; the third is the narrowest where the track starts to gradually ascend.
3.       Soon after, you will come to a fork where the path clearly splits in two tracks. The Cami de Cavalls veers off to the right; however it's the left track you need to follow. This is the only deviation, from there just continue along the worn track ascending through more fields.
4.       Eventually you hit the forest where the track rises through the trees and becomes more rocky, allowing for spectacular views of the valley below right back to the Algaiarens Beaches and the sea.
5.       This last part of the track is the most strenuous, however easily achievable for most people, children included.
Concealed behind surrounding rocks and tall trees is the pond, Sa Bassa Verde, which is so picturesque and alive that it's hard to believe it's only temporary, drying up completely during the the hot summer months. This is the life cycle of the fragile ecosystems found in the various types of natural temporary ponds around the island.
The return journey is easier with a constant decent, retracing your steps back to the three gates and the car park.
Time: 45min to Sa Bassa Verde, less than 2 hour round trip including rest time at location
Distance: 6.7km approx.
Level: Medium. Anyone of any age with good legs who enjoys walking can complete it!
Ariel Map: http://ca.wikiloc.com/wikiloc/view.do?id=351555
Road Route: http://maps.google.com/maps?q=Ciutadella+to+40.052922,3.935459&hl=en
The conservation, study and protection of the delicate temporary ponds of Menorca have been a project of the Island's Council for four years. For detailed information about this project and the various types of ponds, flora and fauna found in these ponds visit the site for the project LIFE Basses at http://www.cime.es/lifebasses/en/index.php