The next visit on our virtual tour of Menorca's lighthouses is Far de Farvàritx on the north eastern side of the island. An impressive lighthouse with striking surroundings of slate coloured rocky coastline that is easily accessible.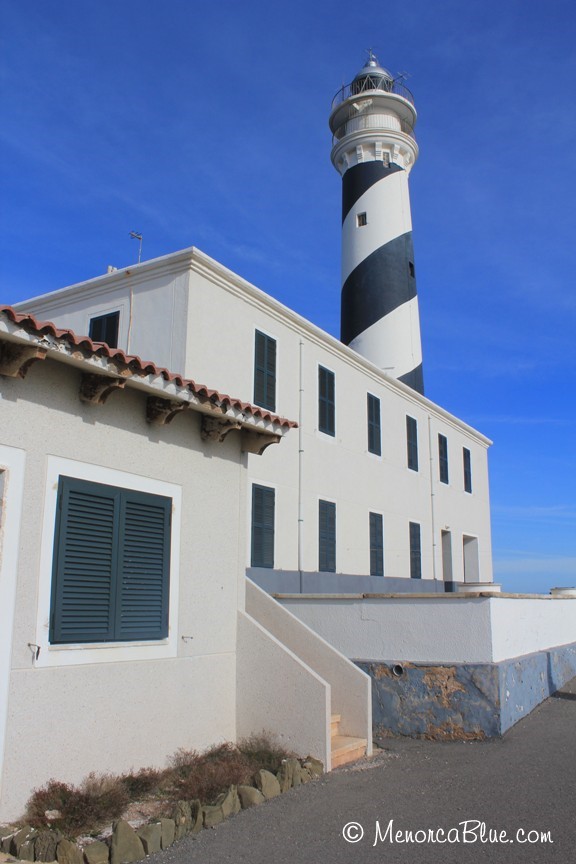 Location: Located inside the Parc Natural de S'Albufera des Grau encompassing the the beautiful beaches of Cala Presili and Cala Tortuga on the southern side and the protected nature park on the northern side.
Details: Cap de Favàritx stands 47 metres above sea level with a height of 21 metres. Its light has a range of 16 nautical miles and the light flashes every 15 seconds in a pattern of 2+1.
The development of this lighthouse was a milestone in the history of the island's coastline along with the other two northern lighthouses of Punta Nati and Cap de Cavalleria.
Numerous shipwrecks particularly in the early 1900s due to the rocky northerly coast and the punishing Tramuntana winds lead to the development of the lighthouse to prevent such occurances in the future.
History: Construction started in 1917 and finally completed in 1922, after setbacks of funding and conflict with the land owner. It was not the first built on the north coast of Menorca, that being Cap de Cavalleria, however the tower was the first to be built completely of concrete of all the lighthouses of the Baleares.
Access and surroundings: By car from the main road across the island take the exit at Es Mercadal north towards Fornells (Me-15) then follow the signs in a south easterly direction towards S'Albufera des Grau (Me-7) then look for the turn off on the left for Favàritx which is clearly signposted along the way. Parking is on the surrounding side of the road near the lighthouse then a short walk to the end.  You can access both Cala Presili and Cala Tortuga from this spot by walking south along the Camí de Cavalls horse track along the coast. Both beaches are well worth a visit and are some of the best on the north eastern side of Menorca.

View Favàritx Lighthouse Menorca in a larger map