Introducing the 'Weekly Peek'.
Take a peek inside the charmed life of Menorca, the Mediterranean island I call casa
'Aço es Vidassa!' said my beloved one day, as he stretched out on the boat to soak up some sunshine, whilst we enjoyed our mid afternoon siesta anchored at Cala Escorxada. Nothing but the sound of the turquoise sea, the occasional seagull and a few locals to remind us we were not on a deserted island.  'Vidassa… that's a word I haven't heard before. What does it mean?' I asked.
'Exactamente esto, vivir en un paraíso' he replied, which means  'Exactly this, to live in paradise'.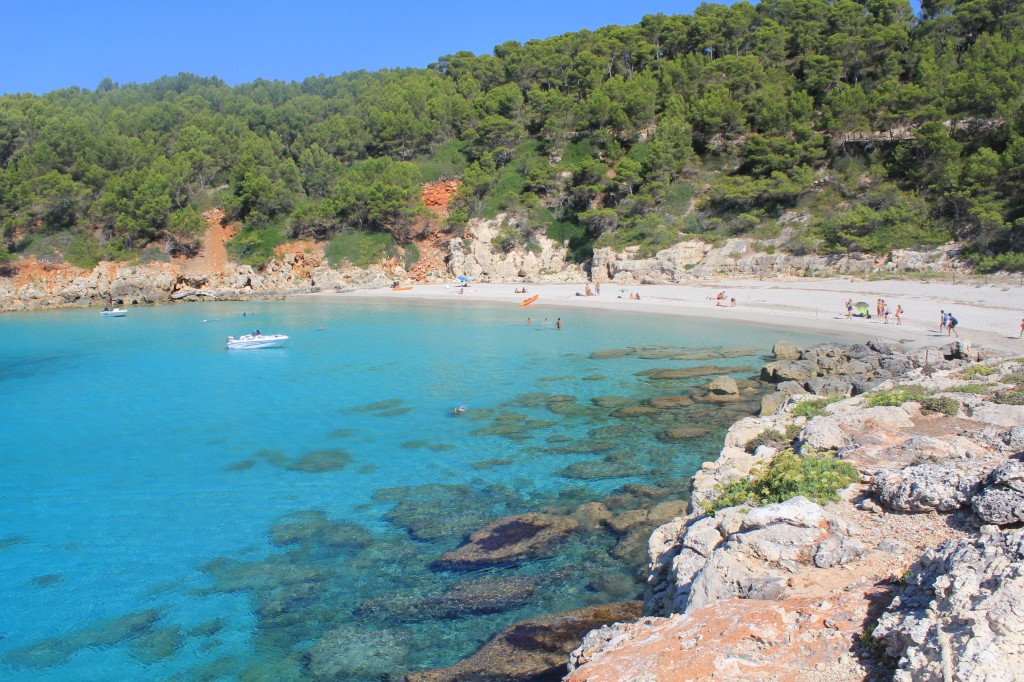 With the help of my trusty online dictionary, I later discovered that Vidassa translates to
charmed life  in English. To me no other word or expression could better sum up what it's like to actually live day to day on Menorca.
Menorca is just one of over a hundred islands that sit in the middle of the Med, famed for its bright, inviting shades of blue and the excellent quality of life, regardless of the country to which the island belongs. Mediterranean culture is a worldwide recognized brand all of its own. Just mentioning it evokes endless clichéd images attached to dreams everyone would like to fulfill one day. The islands of the Med all share the riches of the sea, white washed villages, contrasting coloured towns, the deeply entrenched value of enjoying good food and wine daily, a relaxed inviting attitude amongst the people and living traditions that date back many centuries.
What sets each island apart is the mix of this Mediterranean lifestyle with the unique customs of each island and the culture of each country.
According to Wikipedia, Menorca is the 12th largest Mediterranean island. Yet most people have never heard of it, compared with the fame of its neighbours Mallorca, Ibiza and Formentera. Even some of the tiny Greek Islands like Ithaca or Mykonos are more internationally known. This relative anonymity is what makes Menorca special, and the locals are quite content for it to remain this way. Their beaches are less crowded most of the year and being a recognized biosphere means that the landscape of Menorca remains vastly untouched. There is a notable harmonious existence here between the inhabitants and nature. Only during the height of summer and on certain dates of the year is this tranquility disturbed by the holidays in Europe and traditional fiestas of each town. Menorcans are the masters of ceremony and celebration with their infectious fiestas that feature their purebred horses. Just ask anyone who has experienced it!
Many people want to know what it's like to live here. The one word answer is Vidassa, a charmed life.
Strangely enough, it's not so different from my own home Australia, and in many ways I feel far more comfortable and ajusted here than I did living in London for years. Despite the languages I had to learn, both Castellano (Spanish) and Menorquin (Menorcan dialect of Catalan), there are many similarities in landscape and lifestyle between a small island with an old culture and a big island with a modern culture. I am spoilt to have the best of both worlds. The greatest difference is the distance between them; my two island homes could not be further apart with four flights and no less than a full 24 hour journey.
What exactly is so charming about every day life in Menorca?
You'll just have to keep in touch with me here at Menorca Blue to find out!
For a real peek inside paradise, click on this link below and enjoy a 5 minute daydream…
VIDEO – Menorca's Mediterranean Treasures