Amazing autumn weather continues even though we are well into October, and everyone is certainly enjoying it whilst it lasts! As the air is still warm and it's not too hard to get out of bed, early morning seaside walks and fishing trips at dawn are the perfect autumn entertainment.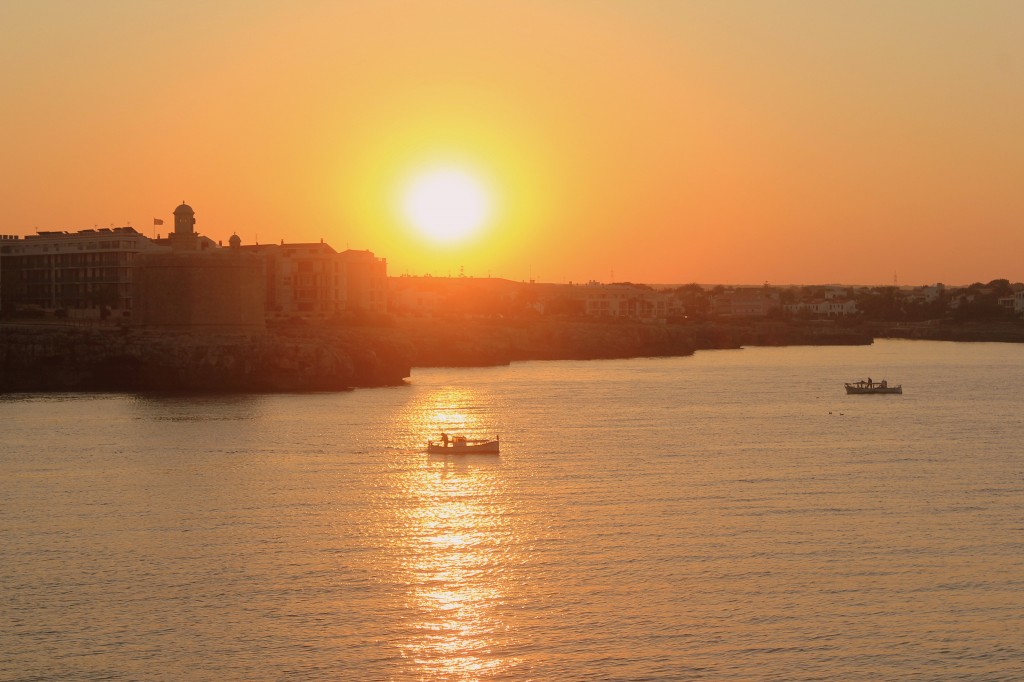 What a way to start the day. The sun rises a deep orange colour which for the first few minutes turns both the sky and the sea into shades of gold. This photo I took yesterday at the entrance of the Port of Ciutadella, however every sunrise this week and last has been just as beautiful. At 7.30am the only people out on the sea are the dedicated fisherman, most in their traditional wooden Menorquin Yachts. Last week our boat was one of those early risers, both my dedicated fisherman and I savouring every moment of our first light fishing excursions. It's quite a scene with the shadows of the boats backed by the morning sun, the fresh sea air and the water creating a mirror like reflection only broken by us passing through it.
Autumn is the best time of year for fishing in Menorca. The conditions are excellent as the sea is calm and clear, and the many species of fish are at the end of their growth cycle.
Life revolves around fishing in my house at the moment and I have no complaints.  I love being in the boat as well as discovering the joy of fishing, cleaning and cooking the catch of the day. With the many types of fish local to Menorca, techniques for catching them and ways to cook them, we are eaating some lovely meals at home. Viva la dieta mediterránea! It's certainly one diet I could stick to easily.
Despite the fact I've only cast the fishing line a few times myself, I did catch a 'Vaca' on my first try. Mostly I just observe, marvel and occasionally applaud whilst lying in the sun, as my accomplished fisherman does what he does best. It's most impressive when he pulls three out of the water in one go! Another admission is that I never thought I could bring myself to clean a fish… but when the catch of the day is around thirty, it seems only fair to help out with the dirty work when I expect to be enjoying the dinner later on. Still, I constantly surprise myself with all the weird and wonderful things I find myself doing in my second home.
Suffice to say that the next few articles will be all about the adventures of fishing in Menorca!