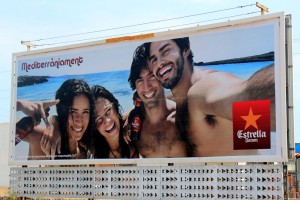 Menorca has been put in the spotlight this summer by the 2010 Estrella Damm Beer advertising campaign which was filmed here in spring. Estrella Damm has come up with a fantastic concept to market their product, summing up the essence of summer in the Spanish Balearic Islands: Sun, Sand, fun and adventure with friends … and associating all that with enjoying Estrella Damm Beer.
The 2009 commercial was filmed in Formentera and was hugely successful; the follow up in 2010 has been even more popular in Spain thanks to the beautiful scenery in Menorca and the song 'Applejack' by the Australian group, The Triangles. In just over two months since the first broadcast on television, the 2010 commercial shot in Menorca, had been viewed over 2,475 000 times on YouTube, already surpassing the total views for the previous 2009 commercial in one whole year!
The commercial features the story of four young Catalans who depart Barcelona for Menorca on a yacht to celebrate the San Juan long weekend. In Menorca they experience the local horse fiestas, visit the beautiful beaches, ride coastal tracks on bikes, go shopping in Ciutadella, eat Emsaimadas in Binibeca, go to a party on a rural farm and of course, enjoy all of this whilst drinking Estrella Damm beer. The tag line from the commercial is abbreviated from a line from 'Applejack', which is 'Sometimes what you looking for is so close it's hard to see'. This references both the story in the commercial and the Balearic Islands of Spain, meaning Spaniards don't have to travel far to experience paradise, its right on their doorstep (… in Menorca!).
If you haven't seen the commercial, take a peek here.
Accompanying the television advertisement there has been a print campaign too, with billboards and posters with shots from the commercial all around the island. An obvious reminder of just how fantastic summer is in Menorca.
As for the soundtrack, in the space of two months The Triangles had gone from being the surprise unknown live act at the end of the filming, to a group that everyone in Spain knows and their song 'Applejack' heard several times daily.
In Menorca, it's an anthem heard in bars, on the radio, on people's mobile phones and even the local brass band made it part of their repertoire for the fiestas of Sant Joan.
It seems everyone is singing the tune this summer   'Ba Ba, Ba Ba, di da da'
We have been lucky enough to catch up with Katherine Simpson from The Triangles to find out a bit more their experience in Menorca and the following Applejack Spanish craze!
Stay tuned for our interview with Katherine.