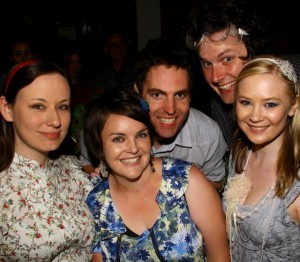 Applejack, the hit song from the summer 2010 Estrella Damm Beer commercial in Spain, is actually a classic of the Australian group, The Triangles. Here is our interview with Katherine from The Triangles about travelling to Menorca to film the commercial last spring.
Katherine, can you tell us a little bit about The Triangles?

Sure! The Triangles are a five-piece band from Melbourne, Australia, and we've been playing music together for over 7 years now. The five of us (Eleanor, Julie, Matt, Robert and Katherine) have been friends for a long, long time, some of us have been friends since we were children. One day we realised that we could each do something musical, so why not form a band? The band was born out of friendship and a shared desire to just have fun and not take ourselves too seriously. That is the spirit of the band. The Triangles will always be the five of us, and the five of us will always be The Triangles!
How did the opportunity come about to be a part of the 2010 Estrella Damm Beer commercial in Menorca?
It all started back in January when we were approached by Karl at Level Two Music in Australia. He was asked by another music licensing friend, Jesper from Musicstylist in Denmark, to help him find a very specific kind of song for the new Estrella Damm campaign. Karl knew us from Melbourne and suggested Applejack. Over the next few weeks and months we waited and were absolutely delighted when we were told our happy little song from 2005 was going to be used! We were equally excited when we found out we'd be coming to Menorca to film the ad as well.
Being Australians, you had to travel such a long way from home to get to Menorca.
Did you know anything about the island before you came here?
It is a very, very long way! About 30 hours from Melbourne to Menorca including stops. We had heard of Menorca and knew where it was, but nothing much more than that. We did by some travel guides and read up before we came so that we knew what we should go to see when we weren't filming.

What was it like filming the commercial?
Filming the commercial spot was a very new and bewildering experience for us. We have never even shot a music video, let alone anything on this sort of scale. All the people involved in the shoot were lovely to work with. The scene where we shot the live concert in Ciutadella was amazing. Apart from a handful of actors the rest of the crowd was all made up of locals, and they were all there until well after 3am.
What did you enjoy most about your visit to Menorca? What left the biggest impression on you?
The people and the natural landscape. The people we met were friendly and relaxed, and very supportive of the whole project. The scenery is what will stay with me, and not just the beaches, but the countryside as well. Breathtaking!
How did your friends and family in Australia react of the commercial when they first saw it?
I think my Mum cried! Everyone has been blown away, especially because we had to keep it a secret for so long.
Your song 'Applejack', the soundtrack for the commercial, has become a summer hit here in Spain. Were you all surprised by the immensely popular reaction to your song, in a foreign country and language?
When we arrived in Menorca some of the people from Damm and the ad agency were telling us the song would be a hit, especially after the success of last year's song. But we never really believed it. Well, we're eating our words now! It is such a thrill, it still feels like it isn't really happening.
The Triangles now have a whole new audience in Menorca and the rest of Spain.
Will you all get back here to play live for your fans anytime soon?
We hope to, but right now we're having a hard time making dates work. It is winter in Australia right now, so it would be great to come back! We'll be sure to let you know if we can make it happen.
Thanks Katherine, we would love to see you all back here in Menorca soon!
See the full affect of 'Applejack' in Menorca as more than 20,000 sing as the song is played by the local brass band at the fiestas of Sant Joan 2010 in Ciutadella.