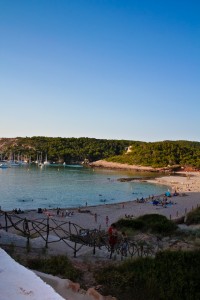 In these busy hot summer months here in Menorca, it is just as easy to get caught up in the daily grind of work, home, chores and sleep, as it is anywhere else. Yes, the drain of the weekday routine affects those of us who live in an island paradise as much as it does anyone! It is too easy for the best part of the year to pass us by in the blink of an eye, whilst we are too busy trying to squeeze everything in that must be done.
So with that in mind, last week we decided to seize the (summer) day and break the boring routine with some summer sunset swimming!
Each day after work, on these hot and humid July evenings, when the masses are heading home from the beach we are heading in the opposite direction. Those very late afternoon hours before the sun starts to descend are my favourite time of the day.  I can think of nothing better than just jumping on a motorbike with nothing more than my beloved, my bikini and a towel and riding off before the sunset to any one of the dozens of gorgeous beaches nearby. The water is the warmest at that time of the day, the tranquillity of fewer people at the beach is the best way to enjoy it, and the colours of the surroundings are touched with balmy glow. I was surprised how much I felt like I, myself was on holiday, getting to know some of the delightful spots of the island more intimately.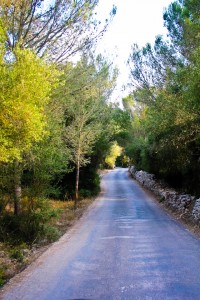 At the same time it's a quick getaway to disconnect completely from everything, and spend some carefree couple time together at the end of the day. Of course the ride back on motorbike is just as enjoyable, if not more wonderful, as the sun can be seen turning the clouds shades of purple and pink before setting almost a sparkling red colour below the horizon. There is something to be said for how engaging the journey is on the motorbike with the wind in your hair, but the whole experience is just as worthwhile in car.
This last week we went to beaches on the west side of the island, Son Xoriguer in the south, La Vall in the north and Macarella in the south for dinner with another couple on the beach at Cafeteria Suzy. To be at the beach between the hours of 18.30 – 21.30 on any day of the week, and see the sun set so spectacularly every evening, is a wonderful experience in Menorca for anyone. I'm very much looking forward to our next daily escape; stay tuned to find out where it will be… it's a mystery to me too!
Check out this short action video I shot whilst swimming taken from our evening escapade to La Vall.
Check out more pictures on our flickr Photostream.