One of the best aspects of the Mediterranean Diet is the way the locals in this part of the world turn the simple into spectacular with the most common ingredients.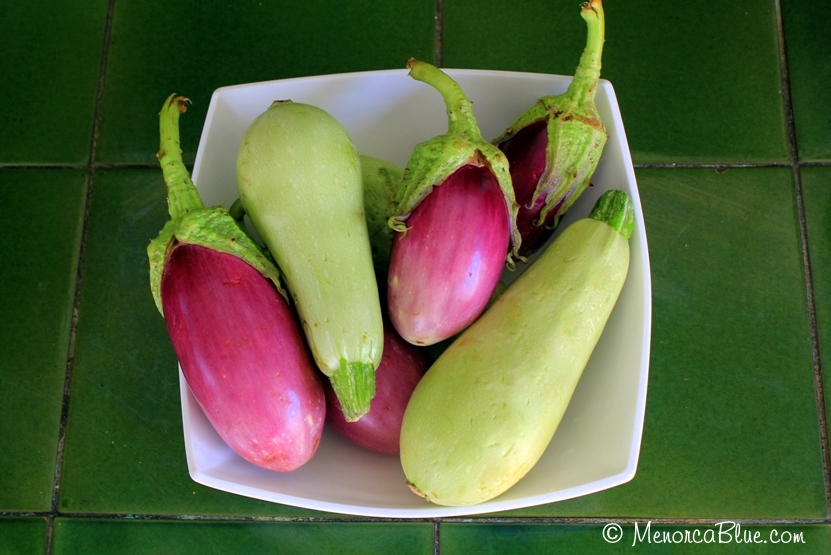 Living on a small island with excellent conditions for farming provides some of the best local dishes of the vegetarian variety.
Island grown fruit and vegetables are plentiful during the summer months and most recepies use them either on their own, mixed with locally produced cheese and milk or garnishing sweet and savory baked treats. Inseperable best friend of the tomato, is the green pepper (followed closely by onions and garlic), and other favourites in season right now are aubergines, courgettes, red peppers and potatoes.
Many Menorcans have a small farm called a hort or hortal just outside of town, or vegetable patch in their gardens with just enough for a fresh salad side or sofrito for the daily meal. You can also buy local fresh produce at most supermarkets or markets around the island. There won't be an 'organic' section, rather that each product is marked as either being from Menorca or the Balearic Islands, so you know you are buying local. Restaurants also support local farmers, so you can be assured you are getting the tastiest and freshest served on your plate.
Some popular vegetarian recipes in Menorca include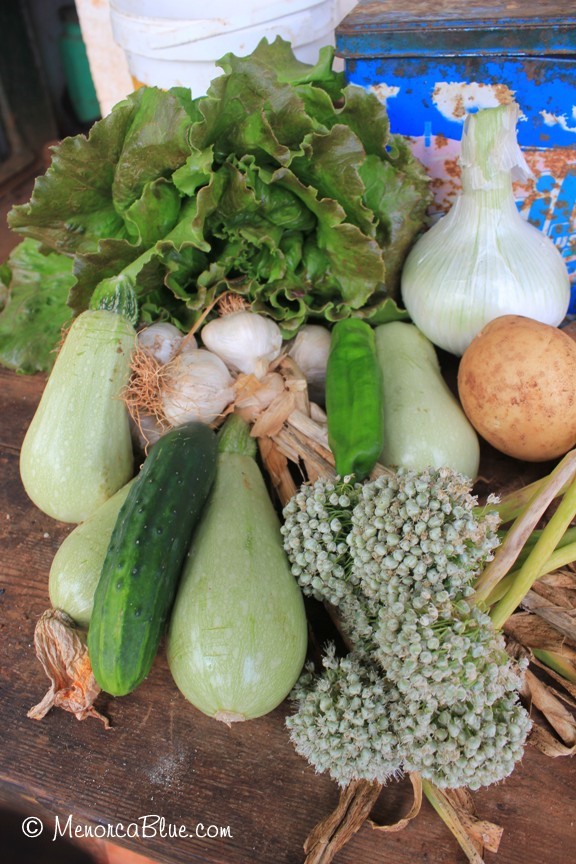 Aubergines o Carabassos rellenos
– Stuffed Aubergines or Courgettes
Tumbet
– Sliced or diced potatoes mixed with chopped vegetables
Aubergines es Forn
– Roasted aubergines with potatoes, onion and green peppers
Oliaigu
– Tomato, Pepper and Onion Soup with toasted bread
Cocas Saladas
– Baked savoury slices similar to pizza or focaccia bread topped with peppers, tomato, onion and aubergines
Legumes are also a popular ingredient, but more so in winter for stews and soups.
You certainly don't have to be a master chef or have natural talent to try your hand at mediterranean cuisine. Like the simple summer tomato salad (two tomatoes sliced, sprinkled in salt and drizzled in olive oil), another favourite at this time of year is a starter of Pimientos del Padron.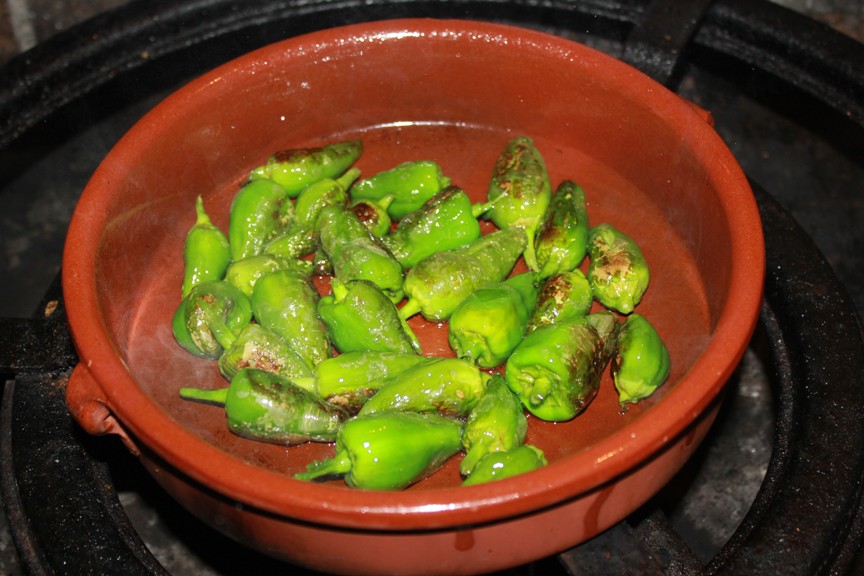 Padron Peppers are small, bright green and slightly sweet with the occasional spicy one. We have four pepper plants at home and they are producing an endless supply of peppers for our pleasure each day. Look out for Pimientos del Padron on the menu or on the shelves at the supermarket. Easy to prepare in a frypan or the grill with a dash of olive oil till the soften and brown slightly, sprinkled with sea salt and eaten one by one.
You'll know if you get a spicy one, so have your drink standing by. Good luck!
Soon to come, more easy recipes from Menorca using aubergines, courgettes, potatoes, peppers and other veggies.
If you want to buy fresh locally grown vegetables from a Menorcan farm, why not try 'The Lettuce Club' at http://elclubdelalechuga.blogspot.com.es/ get in touch with them to find out more and have fresh veggies delivered to you in a flash!