New Year's Eve, the biggest party night of the year in Spain is known as Nochevieja in Spanish or Nit Vella in Menorcan. In English this literally translates to the last Old Night before the New Year. It is custom to share a special dinner with friends; those who can afford the luxury enjoy a seafood meal as tradition, washed down with fine wine. Like everywhere else around the world chilled bottles are popped at midnight, and Champagne flows to bring in the New Year. All eyes turn to the capital to follow the 12 bell chimes of the clock tower at the famous Puerta del Sol of Madrid.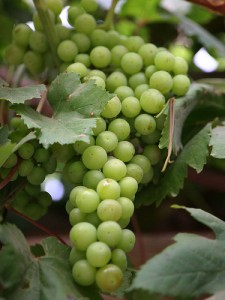 Las Doce Uvas  – 12 Grapes

However here there is another tradition reserved only for this one night. Instead of only counting down the last 10 seconds till the clock strikes 12, the Spanish then count all 12 of the bell chimes of the clock tower or Las Campanadas as they are called here. To accompany these 12 chimes there is a specific good luck ritual of every individual eating 12 white grapes one by one with each bell chime. The challenge is whether you can stuff into your mouth, chew and swallow all 12 of your grapes and finish by the 12th and final bell. Those who manage the task are said to have good luck and look forward to prosperity in the New Year. Only then at the end of this ritual, does everyone sip Champagne and wish each other Feliz Año in Spanish or Bon Any in Menorcan whilst sharing a hug and a kiss.
Various sources differ slightly in exactly which year this tradition began in Spain. But within the last few years of the 19th Century, this tradition was born at the Puerta del Sol, and continues there every year, having been adopted by the whole country and some South American countries as well.
The rest of the night passes as it does in every other location with celebration into the wee hours of the morning. Resolutions, Resacas (hangovers) and renewed optimism are all that remains on the morning of the 1st of January.
By the way, here in Menorca if you ask anyone for seedless grapes,  Raïm in Menorcan, they will give you a funny look as they are not common on the island. Although you can buy twelve peeled and deseeded grapes in small tins like olives especially for the occasion! So you have been warned, if you ever find yourself in Spain at New Year, you'll know what to expect. Needless to say it adds some additional humour to the occasion, watching everyone spend the last few minutes of the year not in reflection or thanks, but frantically preparing, peeling and deseeding grapes, then stuffing their mouths full of them! It's something most people attempt a few years before successful!
Wishing you all a 2011 full of prosperity!