Last Sunday morning whilst pottering about in the garden, my attention was drawn by the distant sound of 'clip-clop' coming closer up our quiet street. To my delight it was the sound of three black stallions and their riders out for their morning volta in preparation for the Sant Joan fiestas in Ciutadella at the end of this month. The kids came running outside to see them pass by our house and to our surprise one reared up on its back legs to which the neighbours responded with the traditional Olé as we all applauded. This trick of  rearing up with their necks arched perfectly is called un bot. It's a showstopper normally reserved for special occasions such as the fiestas, but we were lucky enough to have one performed just for us locals.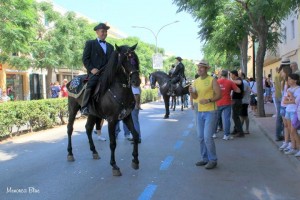 Before I had time to grab my camera they were already at the end of the street. They were gone in a moment, but my smile lasted all day.
This sort of experience is something that is special to Menorca, as summer approaches the sight of horses and their riders on the side of the road become quite common. Except there is nothing common about these horses or seeing them pass by, in fact quite the opposite, its unique to Menorca. I'm convinced that nowhere else in the world would you see this, simply because nowhere else has this particular breed of horse, these particular traditional fiestas or these tranquil suburban streets and landscape for them to wander safely.
I never tire of seeing these magnificent horses, and look forward each year to these last warming days of Spring when they are out and about in training for the fiesta.  A poignant reminder of something you will find only in Menorca – the Purebred Menorcan Horses La Pura Raza Menorquna.