Menorca is one of those special places that has over 130 coves and beaches to discover, most of which are places where you will find few people. Apart from the designated beaches with tourist urbanizations and car parks close by, almost all of the beaches are completely natural with no services within walking distance.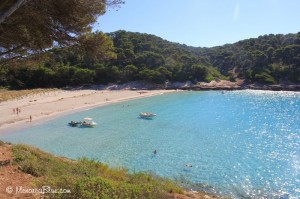 In Menorca, you can completely escape from it all at any one of the remote crystal-clear coves, but you have to pack well for a day out in the heat of the summer.
Here is our step-by-step guide to preparing and packing for a day out at the beach in Menorca.
1.  Find out which way the wind is blowing
This is the most important first step, if the wind is blowing strong north, choose a southern beach, if south, choose a northern beach. Check the weather forecast before making a decision a few days in advance. For more information about wind in Menorca click here.
2. Research the beach you want to visit
Find out about the ease of access to the beach, the walking distance from the car park or bus stop, whether the parking is paid or free, if its a popular beach the car park will fill up mid-morning. Does the parking close at a certain time?
Is there shade from trees or is it all open? Are there toilet and rubbish facilities, is there a beach bar or restaurant, is there a lifeguard on duty or not? Are there any water activities or beach hire available?
Where to find all these details in one place? Visit our beach guide to get all the available information on Menorca's beaches.
3. Pack for the beach well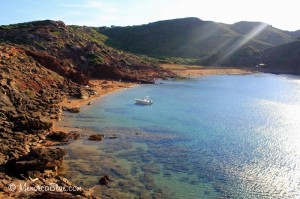 Once you know what is available at the beach and how far the parking/ bus stop is from the beach, you can prepare for your day out. The beaches with easier access will be the most crowded, but will also have more facilities so you will need to take less with you. It depends on the time of year as well, the more popular beaches are all busy during July and August, but even these beaches are calmer in May, September and October.
Ideally, you want to pack most in a shoulder bag or backpack so it's easier to walk to the beach with just a small esky/ fridge bag and umbrella in your hands.
WHAT TO PACK FOR A DAY AT THE BEACH:
Bikini or swimwear (only a few Menorcan beaches are nudist, swimwear is compulsory)
Enough Water, Suncream, Towel, Hat and Beach Umbrella for shade
Sandwiches, Snacks & Drinks
Paper serviettes or baby wipes (please don't leave at the beach)
A plastic bag  or two to take all your rubbish with you (serviettes & cigarette butts included)
Snorkelling goggles (to check for jellyfish)
Sting treatment or vinegar (unlikely you will need it but just in case)
Reliable shoes for walking if needed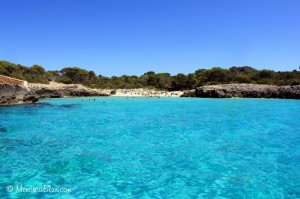 Remember some of the most spectacular beaches and coves in Menorca are those that are accessible by walking or boat. Its worth the effort to get there and walking distance generally ranges between 30 minutes to an hour depending on the nearest access point by car.
We would love to hear if you think we have left anything off the list of 'must haves' for a day at the beach. Of course, if you have young children you will also need some extras to care for them, and a decent sand castle-building kit too!