Its always during the last days before the fiesta when those of us that live in Ciutadella start to see many groups of young people with suitcases getting off boats and buses  from Mallorca and Barcelona. The little island famed for tranquillity instead of fiesta, suddenly gets shoved in the spotlight as the population explodes and television crews move in.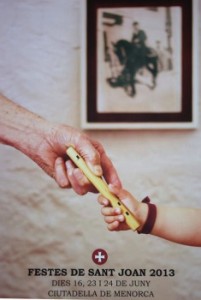 On one hand the atmosphere of excitement is infectious; on the other hand locals can't help but lament at how the focus of visiting young people has shifted, and the fiesta appears to be diluted a little more each year. The gin and dancing horses are definitely part of the fiesta fun, but  I often hear from the older citizens of Ciutadella about how it is different now compared to when they were young, when the crowds were made up of only locals who dressed in their best for the occasion. That was B.T, Before Tourism.
Times change, this is inevitable, but it is through the locals that tradition lives on, and they continue to keep the spirit of Sant Joan alive and pure. These people like their horses,  seem to have the fiesta running through their veins. Tradition is taught and passed on from generation to generation, but it is also a part of who they are. This is the message transmitted through the image of the official poster of this year's fiestas.
I saw a group of young local girls with matching fiesta t-shirts that said 'Érem, Som i Serem Sempre SANT JOANERS', which means 'We were, we are and we will always be SANT JOANERS (people of Sant Joan)'. As an outsider who has made Ciutadella my home, I treasure the memories of my first Sant Joan with my grandparents as a child. Now I feel it's a privilege to share Sant Joan with my own family and friends from Ciutadella, as well as appreciate the fiesta traditions from the perspective of a local. I'd like to believe it runs a little in my veins too!
So here is a 'peek inside paradise' moment where you can vicariously live the local lifestyle from inside the fiesta. The video shows the arrival of the horse riders to the palace of the Caixer Senyor in the early hours of the morning, to the cheers of the locals and sound of the band. Its the last official act on the eve of Sant Joan. Enjoy!