Whilst the rest of Europe is walking in a winter wonderland of heavy snow that is causing land and air traffic chaos, here in Menorca we have been enjoying a stretch of milder temperatures.
The New Year sees the arrival of sunny days of around 17º or more, cool but not cold nights, and perhaps the most peaceful sea conditions all year. So still is the sea that it sparkles like glass and the clarity of the tinted turquoise water displays every detail of the shallow sands below.  Known as Ses Seques de Gener this annual phenomenon is described as an anticyclone and normally coincides with the first full moon of the year, which was last night 19th January. What a spectacular full moon it was too, appearing enlarged, luminous and early in the evening at exactly 17.36. Twilight at its best!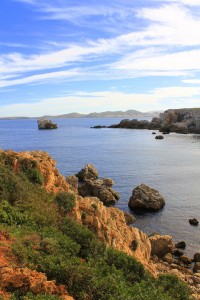 It seems that the combination of these factors causes the light temperate conditions and also causes the sea level to drop slightly as a reaction to the high pressure in the western Mediterranean Sea. This affects not only the Balearic Islands but most of mainland Spain to a certain extent.
The absence of the typical Menorcan winter weather of rainy periods and occasional strong winds makes it a fantastic time to get out and enjoy the beautiful countryside, as well as the serenity of the beaches and coves of the island. It's also a fisherman's delight with such calm seas and none of the activity that comes within the summer months.
Truth be told, this is where the real beauty is in Menorca and why those who love living here, also love the tranquility of winter. In summer you have to share all these amazing views with many others, but in winter the island seduces you with its natural beauty on a much more intimate level. There are not too many places where you can really get away from it all, yet in Menorca on a beautiful winter's day you are spoilt for choice in both space and scenery.
We have been particularly lucky this year as most of December was mild too, making it perfect for weekend excursions all over the island. Must enjoy it while it we can and be thankful it has lasted so long. No doubt like every year we are in for our fair share of rain and Menorca's famous strong northerly winds.
No complaints though, it has been a treat to have an extended break from household hibernation right in the middle of winter!