Spain wins the Football World Cup for the first time in History!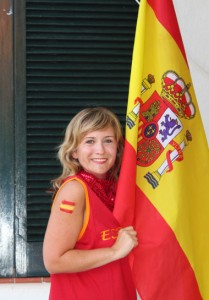 Football I can take it or leave it on any other day, but without feeling like I was betraying my homeland Australia, I have to say I was supporting the Spanish, La Roja (The Reds), since before the Cup campaign started. For so many reasons, I like the rest of the country here not only wanted, but willed Spain to win last night. Why would an Aussie where Red you might ask? One reason is I feel that they truly deserved it, Also, the journey towards this title has been long, yet gaining momentum since before they won the title of European Champions in 2008. Australia, well let's face it, this type of football is not our forte, but I'm proud to wear the green and gold at any Olympic event or even cricket or rugby. Last night I was proud to support my second home with all my heart.
¡Todos Somos La Roja! All of us are the Reds and proud.
From the millions watching in their homes around the country, the ex pats in cities around the world, the supporters that had travelled the distance to South Africa, the Spanish Royal Family at the stadium along with Rafa Nadal & Pau Gasol, the waiters in the restaurants wearing the red football jersey as they worked and even foreigners like me. We are all fans. The streets of Madrid, Barcelona and every major city were packed with Spanish supporters and colour, and coincidentally Pamplona is in the midst of its famous fiesta, San Fermin (the running of the bulls). This year I imagine the party is bigger than ever there.  After all, this is Spain and no-one parties better.
But last night's match was anything but easy. As a World Cup final, you would expect an overload of nerves; expect the first half to be full of faults with a lack of clear control from either team. Perhaps you would even expect extra time. Thank god it didn't come down penalties, but it did come down to the 116th minute, the very end of extra time. I watched the match at home with a small team of friends and family all dressed in red and yellow with our enormous Spanish flag held high. As the game progressed pride turned to nerves then cursing and clapping, and finally pacing turned to praying. 'Please dear god, give us the glory. Just one goal is all it takes.' But I'm fairly sure the higher powers are impartial to prayers at international sporting events. Never the less when that crucial goal was scored I literally felt my heart stop for a split second before we did cheer GOAL and cry, charge and embrace like lunatics! Three minutes later when the final whistle blew all the boys ran towards the pool in a simultaneous jump for joy!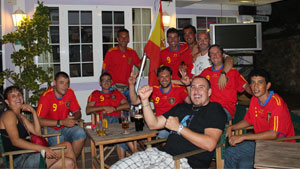 We all love Spain and the Spanish for their passion for life, and because they are just that little bit crazy and carefree,  daring to live and love life the way we would all like to do.
I salute the team, who have played some spectacular football, Andres Iniesta who gave us all that goal, Iker Casillas, the goal keeper and captain who has stopped too many goal attempts in too many games, Holland who made the fight so difficult as worthy opponents, the Spanish Royal Family for being so real and displaying their emotion, and I salute a great country who are experiencing a well deserved time in sporting excellence.
¡Viva España!
*Entry photo by Genista