This is a welcome that we hope you will truly feel from the comfort of your own home whilst visiting our site. We are certain that this inviting feeling will stay with you when you get here, whether discovering Menorca for the first time, or returning to this stunning island for another visit.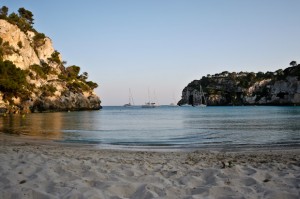 When we go on holiday, we particularly like to visit places where we know people who live there. The experience of that place is totally different when you get to know it with a friend who knows it well. You immediately feel more at ease, confident and comforted by the fact that you have a personal tour guide, who not only shows you the best of what the destination has to offer, but shares with you the unique experience of what it's like to live there.
The purpose of this site and blog is to share with you the best of Menorca from the perspective of someone who has come to know and love the island as an outsider, but been privileged to experience life as a local.
Menorca really is an island paradise, a Spanish national treasure and the least known of the Balearic Islands, often called the jewels of the Mediterranean. Set in the idyllic setting of dozens of pristine beaches, surrounded by a sea of endless shades of blue and scattered with delightful towns rich in history and tradition. It's an extraordinary place to visit, one that you could easily call home.
Menorca Blue aims to provide visitors to the island with practical and up to date information on all that the island has to offer for all ages and interests, as well as share the stories of the charming Menorcan people and distinctive Menorcan lifestyle. These aspects of the island are just as appealing as the beautiful beaches that line the coast.
In Menorca there is an abundance of tranquillity, culture, entertainment and adventure. This allows you to escape and relax completely, as well as enjoy the exceptional quality of life that comes with daily sunshine, locally grown produce, unspoilt natural space and a well maintained sense of community. Spanish culture values food, fiesta and family & friends. In discovering all this in characteristic Menorcan style, here at Menorca Blue, we hope you find that you can't resist discovering it for yourself in person.