Even after the elation of the new year has subsided, January is still a great month in Menorca. The fabulous sunny winter weather endures thanks to the annual Ses Seques de Gener,  allowing everyone to get out and exploring the landscape of the island. Its also considered one of the best times of the year to fish, as the sea is at its calmest this month.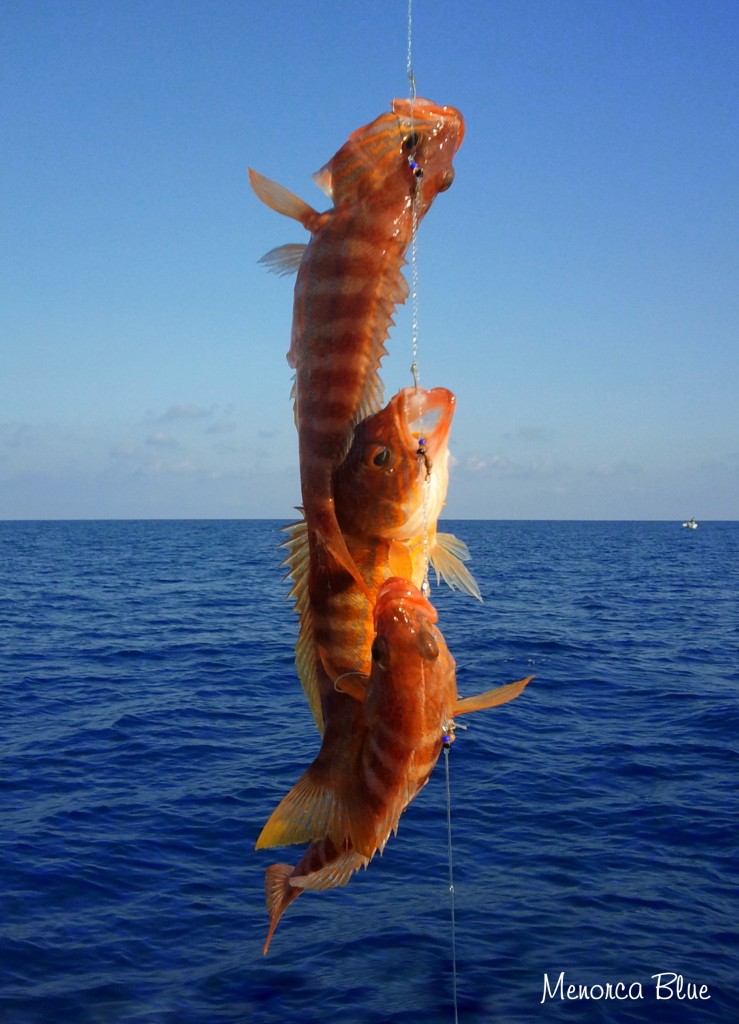 Great weather, enough free time, a bit of patience and a good fishing rod is all you need to try your luck at fishing in Menorca. A bit of talent and some decent bait would help as well, but it's safe to say that the Mediterranean is an excellent place to cast a line. Fishing is a fundamental way of life for a lot of Menorcans; some as a profession all year round and many others as favoured pastime.
One of the most popular type of fish fall into the category of 'Peix de Roca' meaning ' Rock Fish' which as the name suggests are a type of fish found in and around the rocky seabed of the island. Most of the time they are not too far from the shore, which means you don't necessarily need a boat for fishing in Menorca. The trick of course is to know where to find them and to be there at the right time of day when the fish are hungry!
'Peix de Roca' are usually between 20 – 40cm and weigh on average up to 500g depending on the breed. Most of the breeds are attractive looking fish in a variety of colours and full of flavour due to their diet of feeding on baby seafood such as crabs and prawns. For bait, small pieces of calamari do the trick, which can be easily bought fresh from the supermarket and excess frozen for future fishing trips.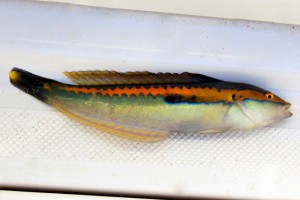 Some of the more commonly found fish in this category include
Donzella – Rainbow wrasse
Esparrall – Annular bream
Vaca – Painted comber and
Serrano – Comber
Donzella is a narrow fish characterized by the yellow and electric blue horizontal lines that run down either side of the fish. They are small fish once grown to full size approximately 28cm.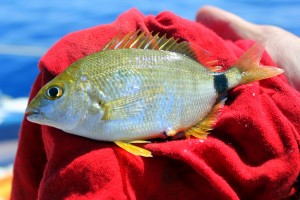 Esparrall are flat predominately silver fish with yellow fins and a black line around the tail and can reach up to 30cm in length.
At first glance Vacas and Serranos are quite similar; both are reddish brown tones and are normally fished at approximately the same size before reaching full growth.  The difference is in the details of each fish and the Vaca is a rounder shape compared to the Serrano which is more elongated.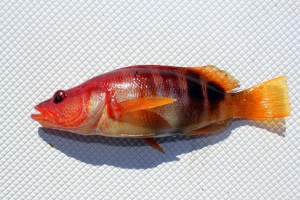 Vacas are distinguished by swirling pattern on their head and the vertical reddish brown lines as well as their plump roundish shape. If you are lucky you will pull out a full size fish at 27cm like the photo below.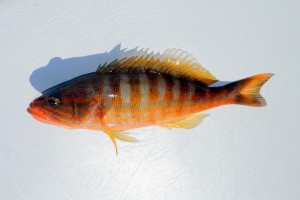 Serranos are browner in colour with horizontal orange and brown lines on the face and thinner vertical brown lines on the body. Full size Serranos can grow up to 40cm with a maximum weight of 700g, but you are unlikely to find these fish at full size anywhere but a fair distance away from the shore.
And how best to eat 'Peix de Roca'?
Add a bit of salt, toss them in flour and lightly fry them in sunflower oil in a fry pan.
Serranos are also famous for being the best fish to make 'Arròs Caldós de Peix' which is a delicacy of Fish and Rice Soup. Stews and Soups with rice are a specialty of the island and for seafood and fish lovers this dish is a favourite along with 'Caldereta de Langosta' Lobster Stew and 'Paella de Marisco' Seafood Paella.
Next up, how to make 'Arròs Caldós de Peix' with Serranos.