Each year the three ports of Menorca Port de Maó, Port de Ciutadella and Port de Fornells participate in a celebration of the Feast of Our Lady of Mount Carmel, la Fiesta del Virgen del Carmen, on the weekend closest to 16th July.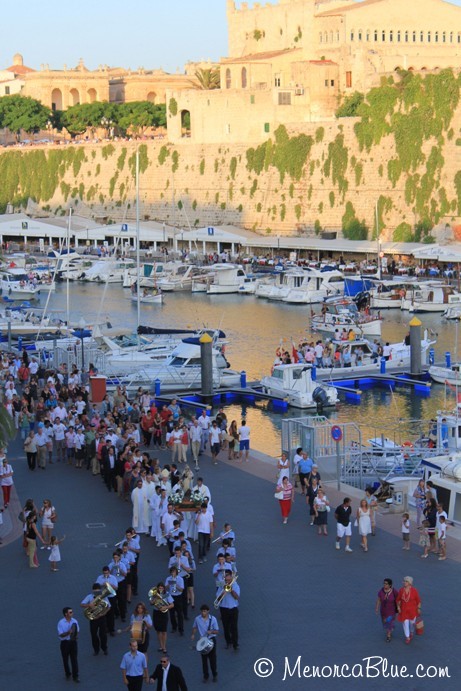 The Patroness of the Sea and Spanish Navy, is also considered locally the protector of fisherman, sailors and boating enthusiasts, and the ceremonies held in each port remember those who have been lost at sea whilst honoring the Virgin for her continued protection.
Each of the three ports marks the occasion in the same way. Starting around sunset with
A Mass in honour of the Virgin
A procession of the statue of the Virgin to a vessel in the port
A parade of all kinds of decorated boats accompany the virgin round the port with the sounding of horns and sirens
Blessing of a floral wreath tossed into the water to remember those lost at sea
Singing the 'Salve Marinera', the official anthem of the Spanish Navy
Port of Maó – Saturday 14th July 2012
This year the celebrations started in the Port of Mahon.  After the mass by the Bishop, the parade of boats around the  port incompassed the three islands – Illa del Rei, Illa Flat and Illa Lazaretto, before returning the statue to and singing the 'Salve Marinera'.
Port Ciutadella – Sunday 15th July 2012
The celebrations started on the night before on the Saturday with many of the fishermen in the port opening their waterfront storerooms affectionately known as 'the Caves' to friends and family for drinks. Live performances of traditional songs of the sea took place in the Port from 10pm. Yesterday there was a mass at 7.3opm in Sant Miguel's church then the statue of the virgin was taken in procession to the port accompanied by the band, before completing the parade of boats out to sea and blessing of the wreath.
Port of Fornells – Monday 16th July 2012
Today on the actual feast day, the celebrations move to Fornells where again around sunset starting at 7.00pm there will be a Mass, procession of the statue then parade of boats around the Port of Fornells
As Menorca is a small island, the sea is a central character its history and current lifestyle. This tradition of ceremony to remember those lost at sea and honor the Virgin for her continued protection, is a simple but important occasion for the islanders that spend their life on the sea. Many boats carry an image of the Virgin del Carmen on board at all times for good luck!