One of the most facinating and unusual aspects of Menorca is its rich history of prehistoric civilizations.
The island maintains an extensive range of stone prehistoric sites, which are said to be some of the best in Europe. Evidence of this can be seen everywhere on the island and to this day excavations continue to uncover some of Menorca's long held secrets.
Remains are sometimes discovered in the process of reforming roads and buildings, especially in the historic centres of towns, which then call for the delicate hands of archeologists to enter and extract with care.
The stone structures on the island date back to the before the Bronze Age with the earliest recording of settlement on the island dating back to 2300 B.C.  Megalithic refers to the period when these typical stone constructions first started being built in the form of structures and monuments.   In Menorca the remaining Megalitic sites can be seperated into polylithic and monolithic structures.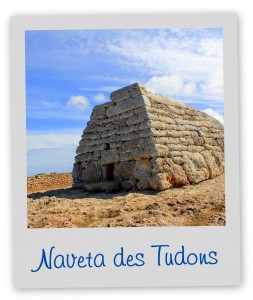 Pre- Talayotic Culture –  2300 B.C to 1300 B.C (approx)
The most common and well preserved Pre-talayotic structure in Menorca are Navetes. They are polylithic structures that are long  with triangular ends. There were two types –  Habitable Navetes and Burial Navetes. The habitable kind can be found in groups indicating small communities, although none of the remains in Menorca are completely intact. The later, the burial navetes, are solitary structures and are in better condition.
The most visited of the island is the Naveta des Tudons which is located on the main road between Ciutadella and Ferreries.
Talayotic Culture – 1300 B.C to 123 B.C (approx)
The evolution of construction in Menorca saw the change in in shape and function of the stone structures during the Talayotic period.
The two most common found on Menorca are the Talayots (or Talaiots) and the Taules.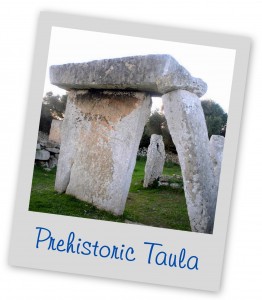 Talayots are not dissimilar to the Navetes and are also polylithic structures. The distinction being their circular shape and often including a second level. They served as either defense towers or houses and in total there are 274 in Menorca, some more intact than others.
Taules are large open circular structures existing of a boarding wall of stones with an entry arch and  a stone T structure in the centre. The name refers to both the entire structure and the stone T on its own which is considered a monolithic structure. Taula is also the word for table in Menorquin/ Catalan. The structures were not believed to be used for any kind of sacrifice, although are thought to be of ritualistic significance.
Taules are unique to Menorca and to date have not been found anywhere else in the world.
For further detailed information about the Megalitic sites around the island visit www.menorcamonumental.net