Location: Sa Platja Gran also known as Playa Grande o Cala des Degollador is located on the southern edge of Ciutadella separating the town from neighbouring area of San Oleo.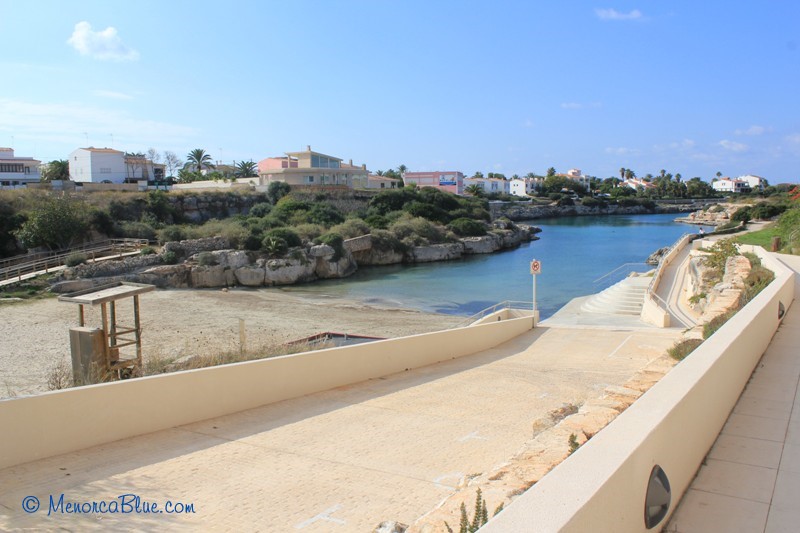 Description: Sa Platja Gran is a small white sandy beach attached to a long narrow calm bay. It offers ramp access and a special chair for people in wheelchairs to access the sea.
Perfect For: Young families with strollers and people needing facilitated wheelchair access to the sea
Access Level: Easy. There is a ramp to the sand level and equipment and staff to facilitate access to the sea for those who need assistance.
Parking: Limited street parking only. Fills up early in the summer!
Bus: Yes
Toilets: Yes
Lifeguard: Yes
Food & Drink: Yes. Surrounding cafes and bars.
Beach Rental: No
Water Activities: No
Boat Access: From the sea for pick up only.
Rubbish & Recycling: Yes. Bins on the street behind.
Access 1 – Walking from the bus terminal at Plaça des Pins in Ciutadella take the road directly behind the plaza heading south called Carrer de Mallorca. The beach is at the end of this street. There is also a bus stop and taxi drop off.
Access 2 – Via the sea via boat, kayak or jet ski.
IMPORTANT:    Please help us maintain Menorca's natural beauty
Dispose of your rubbish, cigarette butts included! There are garbage and recycling bins in the car parks and every street. Reuse plastic bags to take your waste to the closest bin. Take some beautiful photos…. but also take all your rubbish with you. GRACIAS!
WHAT 'S YOUR OPINION?
Please take the time to rate this beach and share your personal tips and comments to help others enjoy the best of Menorca.


View Sa Platja Gran – Cala des Desgollador in a larger map