Location: Sa Caleta is located south of Ciutadella on the southern side of the new marina.
Description: Sa Caleta is a very small white sandy beach attached to a small calm bay, the entrance of the bay is shared with Santandria beach which is next door.
Perfect For: Young families who want a easy access to a beach close by or a quick dip in the sea close to town.
Access Level: Easy.
Parking: Limited street parking only which fills up early in the summer.
Bus: Yes
Toilets: No Public Toilets.
Lifeguard: Yes
Food & Drink: Yes.
Beach Rental: Yes. Sunbeds and umbrellas.
Water Activities: Yes. Paddleboats available.
Boat Access: From the sea for pick up only.
Rubbish & Recycling: Yes. Bins on the street.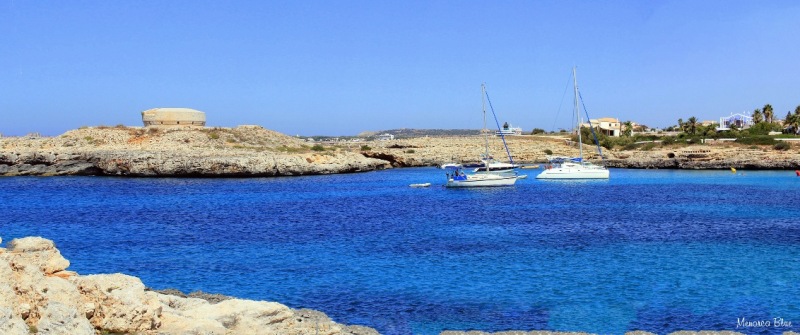 Access 1 –Via car head towards Ciutadella. At the first roundabout turn left and follow the signs that say Cap d'Artrutx.  Continue along this road passing straight through all the roundabouts following the signs to Cap d'Artrutx. At the end turn left still following the signs for Cap d'Artrutx Stay straight toward south. Continue on this road for about two kilometres and follow the signs towards Sa Caleta.
Access 2 – Via bus from the Plaça des Pins in the centre of Ciutadella. From other zones by bus you will have to change at the Plaça des Pins for this route to Sa Caleta.
Access 3 – Via the sea via boat, kayak or jet ski.
IMPORTANT:    Please help us maintain Menorca's natural beauty 

Dispose of your rubbish, cigarette butts included! There are garbage and recycling bins in the car parks and every street. Reuse plastic bags to take your waste to the closest bin.
Take some beautiful photos…. but also take all your rubbish with you. GRACIAS!

View Sa Caleta in a larger map
WHAT 'S YOUR OPINION?
Please take the time to rate this beach and share your personal tips and comments to help others enjoy the best of Menorca.