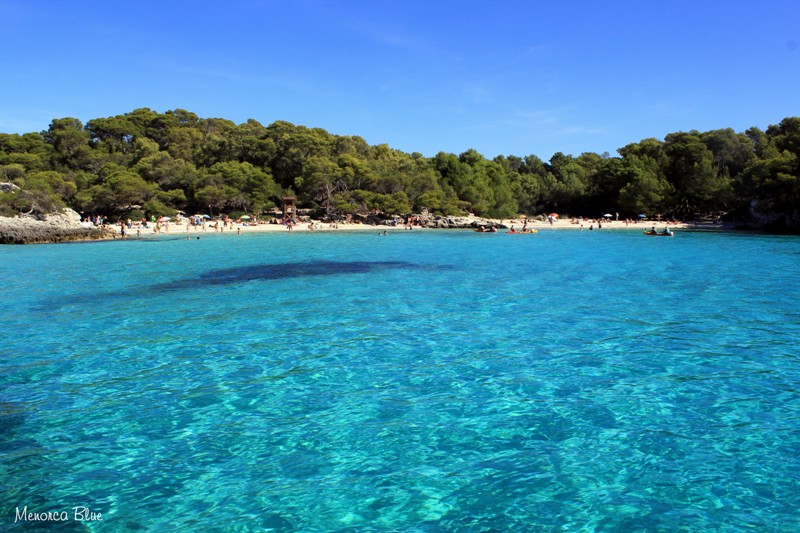 Location: Cala en Turqueta is on the south western side of Menorca on the southern coast of Ciutadella
Description: Cala en Turqueta has a picturesque white sandy beach and shallow clear waters distinguished with the beach separated by some rocks in the middle.
Perfect For:  Families with children old enough to walk.
Access Level:  Medium. 5 – 30 minute walk along a track to get to the beach from the car parks. No Wheelchair or stroller access.
Parking: Yes. There are two car parks. One is paid and close to the beach, 120m the other is free but a longer wal kof 850m. Advisable to arrive early as it's a popular beach and the car parks will fill up.
Bus: No. Taxis won't take you all the way down to the beach either.
Toilets: Yes
Lifeguard: Yes
Food & Drink: No
Beach Rental: No.
Water Activities: No.
Boat Access: Mooring available outside of bouys.
Rubbish & Recycling: Yes. There are rubbish and recycling bins on and around the beach.
Access 1 –  On the ring road with the roundabouts on the outskirts of Ciutadella take the roundabout exit for 'Sant Joan de Missa'. You will also see a large sign for the parking for the three beaches 'Son Saura', 'Cala Turqueta' and 'Macarella' at this exit. Follow this narrow road straight ahead round all the curves till you get to a distinct signposted fork in the road. Veer right towards Cala en Turqueta. The first car park you reach is the free car park approx. 850m away from the beach.
Access 2 – Via the sea.  You can arrive Cala en Turqueta by boat, kayak or jet ski however due to the size of the cala boats must moor outside of the designated area for swimming marked by bouys.
Access 3 –  Walking from Cala Macarella, via the horse trail along the coast known as the 'Camí de Cavalls'. This is almost a 2km scenic walk passing by Cala Macarelleta on the way.
IMPORTANT:    Please help us maintain Menorca's natural beauty

Dispose of your rubbish, cigarette butts included! There are garbage and recycling bins in the car parks and every street. Reuse plastic bags to take your waste to the closest bin. Take some beautiful photos…. but also take all your rubbish with you. GRACIAS!

Ver Cala Turqueta en un mapa más grande



WHAT 'S YOUR OPINION?
Please take the time to rate this beach and share your personal tips and comments to help others enjoy the best of Menorca.