Location: On the northwestern side of Menorca Cala Pilar is between Es Pla de Mar and La Vall on the west and Ets Alocs on the eastern side.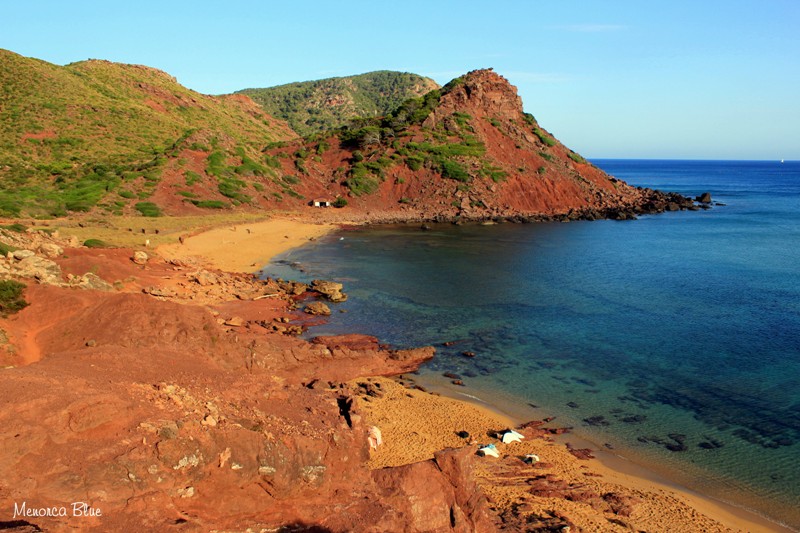 Description: Medium-sized golden sandy beach with shallow calm waters and few people that opens up into a U-shaped bay of clear water with stunning landscapes surrounding. Amazing views from the cliff tops on either side. Cala Pilar has such a contrast of colours with the turquoise blue-green water, golden sand, chocolate and caramel-coloured rocks and bright green vegetation. Its breathtaking!
Perfect For:  Anyone with an adventurous spirit looking for a peaceful virgin beach and clear sea away from all civilization.
Access Level:  Difficult. Access by walking or by sea in a boat, kayak or jet ski.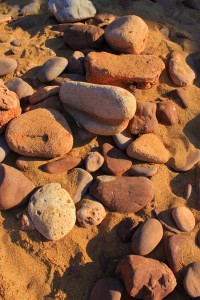 Parking: Car park approx. 1.8km from the beach.
Bus: No
Toilets: No
Lifeguard: No
Food & Drink: No
Beach Rental: No
Water Activities: No
Rubbish & Recycling: No. Remember your take-away rubbish bag!
Access for most people is a long walk via the coastal horse path around Menorca called the 'Camí de Cavalls'. Its for comfortable walkers with an adventurous spirit!
Access 1 – In a car from the main road across Menorca from Mahon pass through Ferrerias on the way to Ciutadella take the left-hand exit marked for Cala Pilar. From Ciutadella on the way to Ferrerias you pass the Castillo Menorca (Castle & Karting Track) on your left then immediately afterwards on the descent take the right-hand exit marked for Cala Pilar. This road leads onto a track that leads to Sant Bernat, Al Putzer, Bini Canó, Sant Felip and Alfurí. The parking for Cala Pilar is free, however, there is a long walk of 1,8 kilometres (about one hour) to reach the cove.
Access 2 – Via the sea. If possible the best access is via boat, kayak or jet ski. Its a great family beach if you arrive by boat, the walk is too long for small children.
IMPORTANT:    Please help us maintain Menorca's natural beauty

Dispose of your rubbish, cigarette Butts included! There are garbage and recycling bins in the car parks and on every street. Reuse plastic bags to take your waste to the closest bin.
Take some beautiful photos…. but also take all your rubbish with you. GRACIAS!

View Cala Pilar in a larger map