Location: On the southern side of the island in between Cala Galdana and Cala Trebalúger. Considered one of Menorca's most beautiful beaches, Cala Mitjana is an open clear blue cove with high cliffs on either side offering a fantastic view.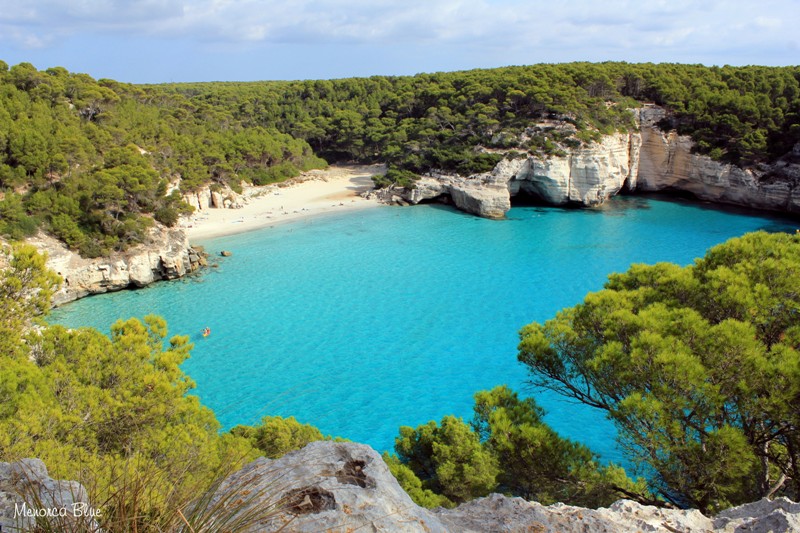 Description: Medium sized white sandy virgin beach with shallow calm waters. A popular beach during the summer for locals and tourists. Access to Cala Mitjaneta is on the western side of the beach via a short track or swimming!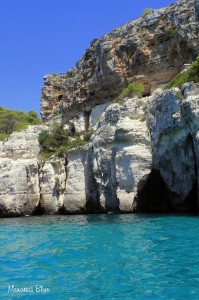 Perfect For:  Experiencing one of Menorca's best natural beaches without the additional walk to get there.
Access Level: Medium. Short walk from the car park via a track. Or by sea in boat, kayak or jet ski. No Wheelchair or stroller access.
Parking: Yes. Limited car park which fills quickly during summer. Advisable to arrive early.
Bus: No
Toilets: No
Lifeguard: No
Food & Drink: No
Beach Rental: No
Water Activities: No
Rubbish & Recycling: No.
Remember your take away rubbish bag!
Access 1 – In car on the road to Cala Galdana, turn off and park in the parking for Cala Mitjana. The beach is a short walk from the car park.
Access 2 –  Via the sea. If possible the best access is via boat, kayak or jet ski.
Access 3 – Walking from Cala Galdana. Pass the turn off to Cala Mitjana on the road to Cala Galdana and at the roundabout turn left. Shortly after you will see a sign on the left for Cala Mitjana on a dead end side street. Park where you can and walk to the end of this street and head towards Cala Mitjana on this easy coastal track. Approx 20 minutes.
Note – On this path you will come to a fork in the road. Veering left you will head down towards Cala Mitjana. Veering right will lead you to a lookout with the spectacular view above of the whole Mitjana cove. Approx 5 – 7 minutes walk to the end, which you will have to backtrack afterwards to the fork to get down to the beach. Well worth the short detour.
IMPORTANT:    Please help us maintain Menorca's natural beauty 

Dispose of your rubbish, cigarette butts included! There are garbage and recycling bins in the car parks and every street. Reuse plastic bags to take your waste to the closest bin.
Take some beautiful photos…. but also take all your rubbish with you. GRACIAS!


View Cala Mitjana & Cala Mitjaneta in a larger map