Location: In the central southern side of the island in between Cala Trebelúger and Cala Escorxada. Cala Fustam is a small, pretty, well protected cove.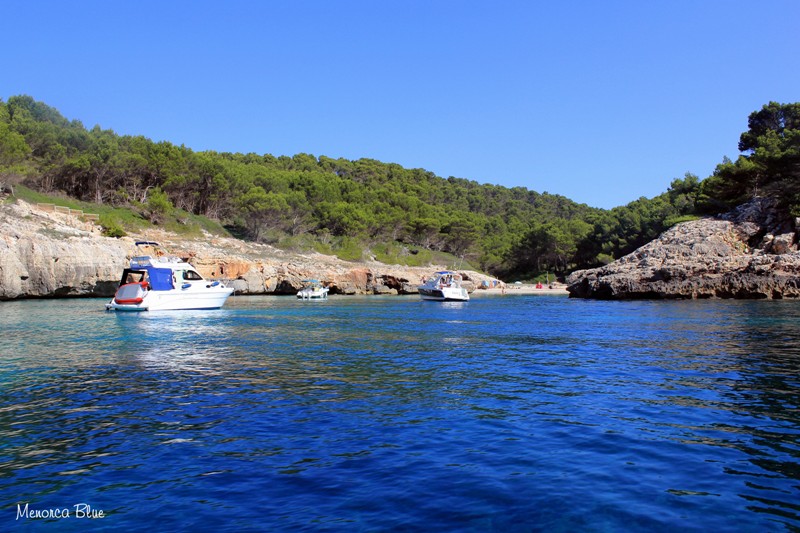 Description: Tiny, white sandy beach with a narrow cove, shallow calm waters and few people.
Perfect For: Being away from company, Cala Fustam is much smaller than its neighbours either side, petit sized perfection!
Access Level: Difficult. Access by walking or by sea in boat, kayak or jet ski.
Parking: None. No car access.
Bus: No
Toilets: No
Lifeguard: No
Food & Drink: No
Beach Rental: No
Water Activities:  No
Boat Access: From the sea only, no bouys.
Rubbish & Recycling: No. Remember your take away rubbish bag!
Access for most people is a long walk via the coastal horse path around Menorca called the 'Camí de Cavalls'. Its for comfortable walkers with an adventurous spirit!
Access 1 – In car on the road to Cala Galdana, turn off and park in the parking for Cala Mitjana. From Cala Mitjana it's approximately a 1 ½ hour walk; 40 minutes to Trebelúger then 30 minutes to Cala Fustam.
Access 2 – In car head for the car park of Sant Tomás then walk towards Binigaus. From Binigaus is approximately an hour's walk again via the 'Camí de Cavalls' to Cala Escorxada. Then another 10 minutes walk to Cala Fustam.
Access 3 – Via the sea. If possible the best access is via boat, kayak or jet ski.
IMPORTANT:    Please help us maintain Menorca's natural beauty 
Dispose of your rubbish, cigarette butts included! There are garbage and recycling bins in the car parks and every street. Reuse plastic bags to take your waste to the closest bin.
Take some beautiful photos…. but also take all your rubbish with you. GRACIAS!






View Cala Fustam in a larger map