Location: Cala en Calderer is situated on the north coast of Menorca between Cala Barril on the east and Ets Alocs on the west.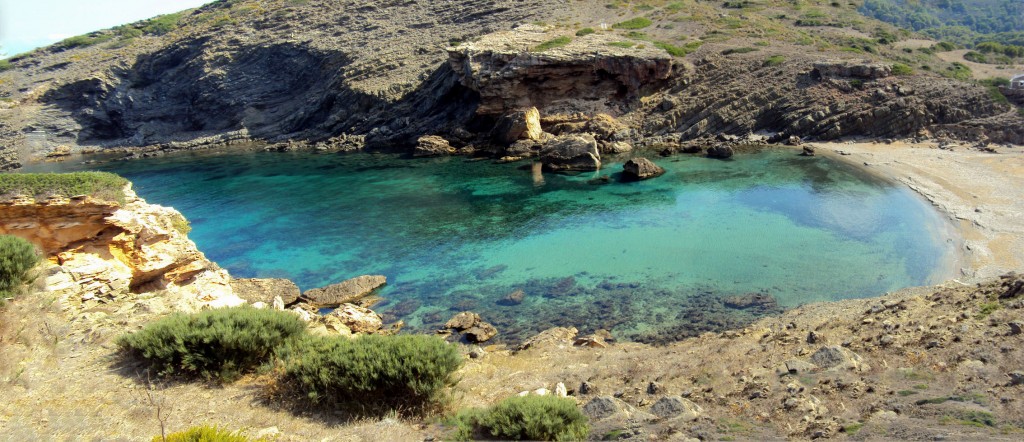 Description:  Characterised by the high cliffs surrounding the small cove Cala en Calderer is a one of the most isolated beaches in Menorca open to the northern sea. Its likely you find you are the only people on the beach!
Perfect For: The adventurer or experienced hiker up for the challenge or kayaking.
Access Level: Difficult. Access is only by boat or via the most strenuous part of the Camí de Cavalls.
Parking: No.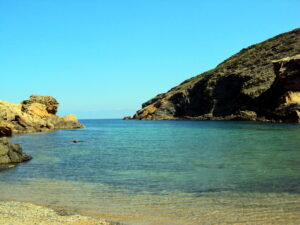 Bus: No.
Toilets: No.
Lifeguard: No.
Food & Drink: No.
Beach Rental: No.
Water Activities: No.
Boat Access: Yes
From the sea to the beach only.
Rubbish & Recycling: No.
Please take your rubbish with you.
Access 1 – Via car and hiking on the Camí de Cavalls coastal track.
From the main road across Menorca ( Me-1) take the exit for Ets Alocs where you will find a sign that indicates the 'Cami de Tramuntana' with all the points you can reach from this road. Pass the exit for the castle 'Castell de Santa Agueda', continue along where the road turns into a track until a fork in the road with a house. To the right there is a track that leads closer to the beach but its private property. Depending on the condition of the left hand road, you can either leave your car at this fork or continue further along if your vehicle is appropriate for rougher tracks. Walking time from this fork to the coast is approx. 20 minutes or about 1.5kms where you will arrive at the beach Ets Alocs.
From Ets Alocs beach heading to the left via the Cami de Cavalls you will reach Cala Pilar. Heading to the right of the beach you will reach Cala en Calderer via the Cami de Cavalls also.
NOTE – Be advised that this section of the track is more strenuous and only for the energetic trekker with the right shoes as sections of the track involve scaling short distances of the rocks to arrive to the beach. This takes approximately 1.5 hours.
Access 2 – Via the sea via boat, kayak or jet ski.
IMPORTANT:    Please help us maintain Menorca's natural beauty  


Dispose of your rubbish, cigarette butts included! There are garbage and recycling bins in the car parks and every street. Reuse plastic bags to take your waste to the closest bin.
Take some beautiful photos…. but also take all your rubbish with you. GRACIAS!

View Cala en Calderer in a larger map
Thanks to my friend Silvia Lollini for her photos.
WHAT 'S YOUR OPINION?
Please take the time to rate this beach and share your personal tips and comments to help others enjoy the best of Menorca.