Location: Binigaus is located on the central south coast of Menorca between Cala Escorxada on the west and Sant Tomas on the east.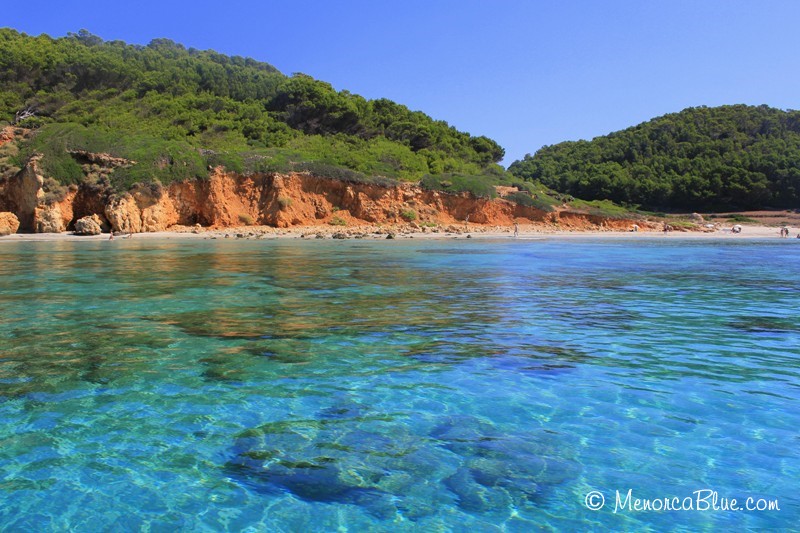 Description: Binigaus is a completely natural untouched long white sandy beach with rock surroundings and a calm turquoise blue sea lapping the shore. The striking contrast between the orange-toned cliffs and green trees with the white sand and bright blue water.
Perfect For: Families with walking-age children or anyone who wants a completely natural beach accessible via a short walk.
Access Level: Medium. Access on foot from Sant Tomas Car Park or by sea.
Parking: Free parking is available at Sant Tomas, the next beach along.
Bus: Yes. Routes from and to Mahon No. 71,  6 times a day – 45 min journey via Migjorn Gran from the bus terminal at Mahon to the urbanization at Sant Tomàs.
CLICK HERE for timetable Route 71.
Route from Ciutadella No. 72 – 6 times a day, 60min journey via Ferrerias and Es Migjorn Gran. From Plaça des Pins/ Plaça Menorca in Ciutadella to the urbanization at Sant Tomàs.
CLICK HERE  for timetable Route 72.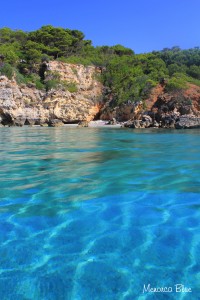 Toilets: No.
Lifeguard: No.
Food & Drink: No. Beach bars and restaurants at neighbouring Sant Tomàs
Beach Rental: No
Water Activities: No
Boat Access: Pick up only from the sea
Rubbish & Recycling: No. Bring a takeaway bag with you.
Access 1: By car from the main road across the island there are two deviations you can take to get to Sant Tomas/ Binigaus. From Ciutadella head towards Ferrerias where immediately before entering the town of Ferrerias, after the turn-off for Cala Galdana you will see another signposted right turn for Sant Tomas. Alternatively from Mahon on the main road, after Alaior there is a turn-off for Es Migjorn Gran or Sant Tomàs. If you pass this exit you can also turn off at Es Mercadal, the next town along. From either direction follow the signs for Sant Tomàs till you reach the limited free parking available for Sant Tomàs. From the car park, it's approximately 10 minutes walk to the right for the start of Binigaus beach which is approximately 1km long.
Access  2: By sea in kayak, jet ski or boat.
Access 3: By walking on the Camí de Cavalls, the coastal track around Menorca coming from a westerly direction from Cala Escorxada approximately 45  minutes.
ADVOCATE SUSTAINABLE TRAVEL TRAVEL & KEEP MENORCA BEAUTIFUL.
RECYCLE & TAKE ALL RUBBISH WITH YOU.  WHAT YOU CHOOSE TO DO MATTERS.
Dispose of your rubbish, cigarette butts included! There are garbage and recycling bins in the car parks and every street. Reuse plastic bags to take your waste to the closest bin.
Take some beautiful photos…. but also take all your rubbish with you. GRACIAS!

View Binigaus in a larger map
WHAT 'S YOUR OPINION?
Please take the time to rate this beach and share your personal tips and comments to help others enjoy the best of Menorca.