LOCATION: Binidalí is on the southeastern side of Menorca in between Es Canutells on the west and Biniparratx on the eastern side. It is the most western of the 'Binis' on the southeastern coast.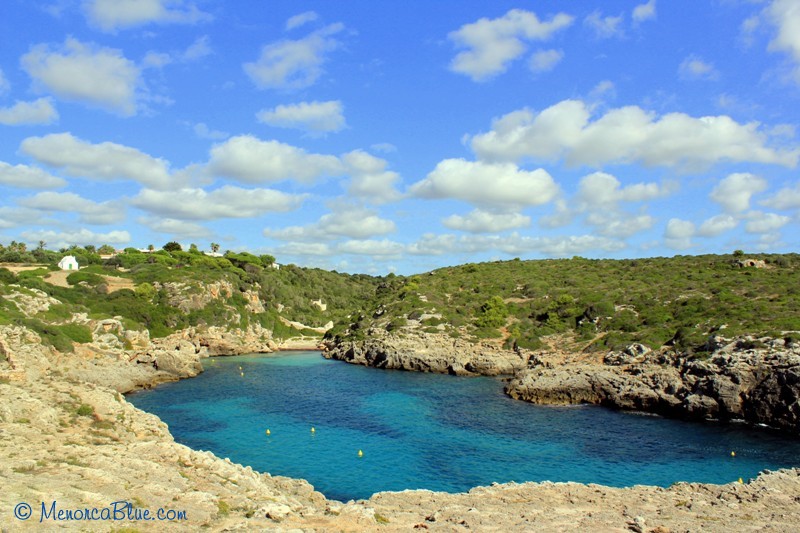 DESCRIPTION: Binidalí is a very small little beach that opens up to a narrow curved cove with clear turquoise water.
IDEAL FOR: A quick dip. Street parking around the cove and a short walk down some steps to the beach. Not ideal for families with prams. Also a good spot to stop for a quick dip or a lazy lunch for those in boats.
ACCESS LEVEL: Easy. From street parking down some steps to the beach. But be warned, in summer the beach will be full very quickly due to its tiny size and the street parking as well.
PARKING: Designated parking behind the beach and limited parking on the neighbouring streets.
BUS: Yes. See details below
TOILETS: No. Please take all your rubbish with you.
LIFEGUARD: No.
FOOD & DRINK: Not at the beach.
BEACH RENTAL: No.
WATER ACTIVITIES: No.
BOAT ACCESS: Yes from the sea to the beach only.
RUBBISH & RECYCLING: No. Please take your rubbish with you.
ACCESS 1 – By car and on foot. Head towards the town of Sant Climent on the southeastern side of the island. At the entrance to Sant Climent you will see the signs for the 'Binis' including Binidalí. Follow the road that will take you straight to the urbanization of Binidalí then turn left at the third street. At the end, you will find parking for the beach and the stairs directly to the beach.
ACCESS 2 – By bus. Bus no. 94 from Punta Prima to Binidalí. The journey takes 45 minutes and runs 6 times a day. For the full timetable and details visit this link for TMSA.
ACCESS 3 – Via the sea via boat, kayak, or jet ski.

ADVOCATE SUSTAINABLE TRAVEL TRAVEL & KEEP MENORCA BEAUTIFUL.
RECYCLE & TAKE ALL RUBBISH WITH YOU. WHAT YOU CHOOSE TO DO MATTERS.
 Dispose of your rubbish, cigarette butts included! There are garbage and recycling bins in the car parks and every street. Reuse plastic bags to take your waste to the closest bin.
Take some beautiful photos…. but also take all your rubbish with you. GRACIAS!






View Binidalí in a larger map
WHAT 'S YOUR OPINION?
Please take the time to rate this beach and share your personal tips and comments to help others enjoy the best of Menorca.