Spain is known for its fiestas most of which include traditions that are specific to each region and have a long history. Generally there isn't a day of the year that goes by without various towns aroudn the country celebrating the feast of a saint that has a significance of some kind to each place.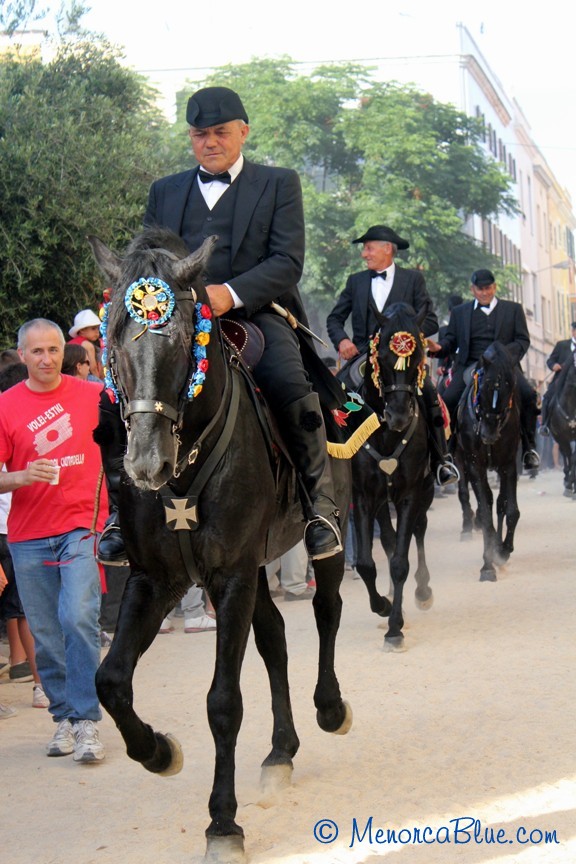 In Menorca there is at least one celebration almost every month of the year that results in either a day off work or a town fiesta of their patron saint.
In summer each town celebrates their own fiesta where the purebred Menorcan stallions are the protagonists. Both the horses and the fiestas are an authentic symbol of  Menorca. Starting with Sant Joan (Saint John) in Ciutadella at the end of June, and ending with the fiesta of Cala'n Porter in  September, most weekends during the summer months are fiesta filled occasions.
The biggest and oldest of the fiestas is that of Sant Joan in Ciutadella. Dating back to the 14th Century with medievil origins, Sant Joan maintains the same traditions and protocols today as when it started. Celebrated on the 23rd and 24th June and the Sunday before these dates there are three days and nights of scheduled events with specific protocols. One tradition maintained is the participation of only men who are farmers or their sons, with the exception of the flute player, the nobleman and the priest who are not farmers. The duration of these events, together with the amount of participating horses and riders makes Sant Joan the biggest fiesta not only in Menorca, but the whole of the Balearic Islands.
As both farming and the breeding and training of the purebred menorcan horses is strong throughout the whole island, through the years the other towns on the island have adopted their own local fiesta to celebrate the feast day of the town's saint. A combination of some of the traditions of Sant Joan plus others unique to each town make up the schedule of events for these fiestas. The hobby of dressage and horse riding is so popular on the island that women also ride and have the opportunity to participate on horseback, except for Sant Joan where it is traditionally only men.