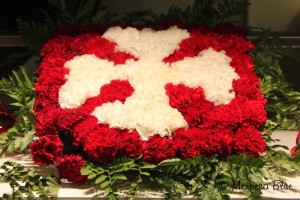 It's that time of year again in Menorca, the local fiesta of Sant Joan in Ciutadella is happening this week and the town is bursting with activity. Pronounced Jo-an, which is Menorcan for San Juan or Saint John in English, the fiesta always coincides with the longest days of the year. Even with so many hours of daylight, the celebrations runs well into the night across several days, and on the official days it starts at the crack of dawn. As tradition goes, the fiesta commences the weekend before the 24th June which is the feast day of Saint John the Baptist. This year it is an entire week beforehand which gives the town of Ciutadella even more days of celebration in between.
Everyone is in preparation mode; Sant Joan flags in burgundy displaying the white cross are hung from the windows of brightly coloured houses throughout the town. Every home prepares dozens of bottles of the Menorcan gin with lemon 'gin amb llimonada' along with traditional foods such as Emsaimadas, Pastissets and Cocas (baked goods), Sobrasada, Jamón and Cuixot(cured meats) and cheese, all ready to receive the friends and family during the days of the festival. Shop windows are dressed in traditional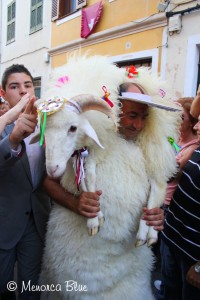 memorabilia and posters representing the fiesta, and the streets are blocked off and covered in a thick layer of sand ready for the fiesta's protagonists… the horses and their riders. Just like rolling out the red carpet anywhere else, for Sant Joan the upmost respect and admiration is held for the stars of the show.
Whilst the fiesta has three official days – the Sunday before the 24th, plus the 23rd and 24th June, over the many many years other traditions have popped up around these dates.
Take a look at some of our previous entries from last year by clicking on any of the highlighted names below to get a better understanding of ceremony and customs behind the fiesta, which only enhance the beauty of what you see and make you appreciate it so much more.
We will also capture the week in photos from the biggest moments to the tiny details which make the fiesta so captivating and special.
The days of the Fiesta of Sant Joan include –
Vetla des Be – The Vigil of the Lamb – Saturday of weekend before 24th June
Dia des Be – The Day of the Lamb – Sunday of the weekend before the 24th June
Nit des Festers – Night of the Bonfires – 22nd June
Dissabte De Sant Joan – Eve of Sant Joan called Saturday of Sant Joan 23rd June
Dia De Sant Joan – Feast Day of Sant Joan, 24th June
Sant Joanet – The day after Sant Joan, 25th June