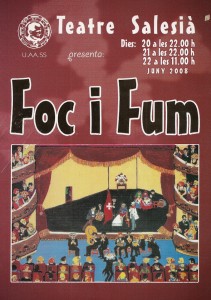 The actual fiesta of Sant Joan as celebrated in Ciutadella each year is a tradition that dates back centuries. Yet the residents of the town, don't remember a time when the fiestas haven't started with 'Foc i Fum'.  Sant Joan has so many facets to its celebrations, multiple events that lead up to the day, which is celebrated on the 24th June.  Each event has a date and time, and with each event passing, the anticipation grows amongst the people of Ciutadella.
The countdown to the fiesta begins technically with 'Cincogema' which is a long weekend, five weeks before the 24th, traditionally celebrated with camping and shared meals amongst friends. But most of the townspeople mark the start of the fiesta events with the opening of 'Foc i Fum', the play about the citizens of Ciutadella and the traditions of the fiesta of Sant Joan.
Described as a light operetta 'Foc i Fum' dates back to 1885 which means that this year marks the 125th anniversary of the play. Written in 'Ciutadellenc' (the Ciutadellan accent of the Menorquian dialect), by Joan Benejam Vives (1846-1922), the play is very much written for the people of the town. The musical boasts its own score, own collection of songs and characters, distinctive sets of the streets and plazas of the town, and of course, the costumes specific to the time period when it was written and the traditions of the fiesta.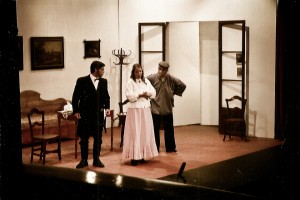 The story follows a love triangle, between Francisca, daughter of a family of the town, Rafel, who is boisterous  and professes his affection for her but shows more interest in the fiesta and timid Bartomeu de Son Tica, who is farmer and a horse rider in the fiestas de Sant Joan. Eventually the heart of the shy Francisca is won by Bartomeu.
Normally the play runs the week before the 24th June, the last day being the Sunday, 'Dia des Be' (Day of the Sheep). This last day during the daytime performance, a special event occurs with the visit of Committee of Caixers and the Sheep enter the theatre, and the 'Jaleo', the theme song of the fiestas is played by the orchestra.  This is always a spectacular site, and the tickets to this performance are particularly desirable and hard to get.  The theatre is always packed for this occasion.
Like with anything classic, the fashion changes each year but the significance and the sentiment of the story never go out of style, and the customs from the fiesta rein acted in the production are the same today as they were 125 years ago. Not many annual events in this day and age can claim this to be true.