Location: On the north western side of Menorca Cala Algaiarens is between Cala Morell on the west and Cala Carbó on the eastern side.
Description: Also known as La Vall, Cala Algaiarens is a large wide cove split into two medium sized golden sandy beaches known as Plaja des Bot on the eastern side and Platja es Tancats on the western side. Both beaches have calm protected sea and are shallow for quite a distance. It's a popular cove with the locals and tourists alike.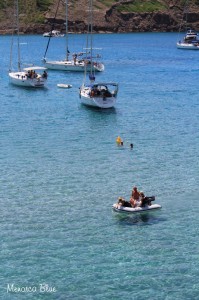 Perfect For: Families. It's shallow waters make it perfect for families with kids for both swimming and playing in the sand.
Access Level: Medium. Access by walking from the car park along a track or by sea in boat, kayak or jet ski.
Parking: Car park approx. 10 minutes walk from beach.
Bus: No
Toilets: No
Lifeguard: No
Food & Drink: No
Beach Rental: No
Water Activities: No
Rubbish & Recycling: No.
Remember your take away rubbish bag!
Access 1 – From Mahon head towards Ciutadella then at the entrance roundabout for Ciutadella follow the signs for either Cala Morell or La Vall or Algaiarens. At the first roundabout turn right. The second roundabout is signposted for Cala Morell and Algaiarens, turn right following the signs. Continue along the road until it forks one direction for Cala Morell and the other for Algaiarens. There is paid parking available, note as to whether the sign for the car park displays Full or Empty.
Access 2 – Via the sea. If possible the best access is via boat, kayak or jet ski.
Access 3 – On foot, via the Camí de Cavalls from Cala Morell approx. 3.4km.
IMPORTANT:    Please help us maintain Menorca's natural beauty
Dispose of your rubbish, cigarette Butts included! There are garbage and recycling bins in the car parks and every street. Reuse plastic bags to take your waste to the closest bin.
Take some beautiful photos…. but also take all your rubbish with you. GRACIAS!

View Algaiarens (La Vall) in a larger map
WHAT 'S YOUR OPINION?
Please take the time to rate this beach and share your personal tips and comments to help others enjoy the best of Menorca.