---
Sant Joan to uroczystość która jest głęboko w sercach wszystkich mieszkańców Ciutadelli, to także tradycja którą chronią i z której są bardzo dumni.
---
'Si Si Si, Sant Joan es viu aixi!'

To dla nas idealny czas aby rozpocząć przygodę z naszym blogiem – letnie przesilenie, noc świętojańska – święto ognia, wody, słońca i księżyca, urodzaju, płodności, radości i miłości, to nie tylko obrzędy związane z puszczaniem wianków, poszukiwaniem kwiatu paproci, to start sezonu fiesty na Menorce.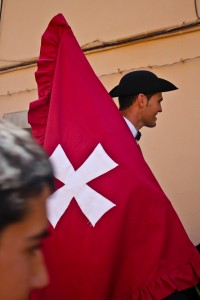 Od czerwca do sierpnia, każdego miesiąca w jednym z miast na Menorce obchodzona jest fiesta. Pierwsza i największa to fiesta św. Jana, w lokalnym języku zwana "Festes de Sant Joan". Pomimo, że nie najbardziej znana na świecie, w Hiszpanii – kraju słynącym z obchodów ogromnej ilości świąt w dużych i małych miastach – osiągnęła status legendarnej. Ciutadella jest małym miastem, ale fiesta Sant Joan jest tu ogromnym wydarzeniem. Z pewnością takim, które warte jest zrozumienia i doświadczenia osobiście przynajmniej raz w życiu.
W odróżnieniu od innych hiszpańskich świąt, Sant Joan (lub San Juan po hiszpańsku) jest fiestą składającą się z wielu dni pięknych wzniosłych ceremonii. Pod wieloma względami jest większa, niż bardziej znane hiszpańskie święta. Z pewnością w znaczeniu tradycji, wydarzeń, uczestników, artystów, lokalizacji i czasu trwania. To mieszanka religii, muzyki, ludzi, zwierząt, tańca, jedzenia i picia, koloru i wszechobecnej zabawy, rodziny i przyjaciół. Tak jak można wyobrazić sobie najlepszą i największą hiszpańską fiestę. Sant Joan to uroczystość która  jest głęboko w sercach wszystkich mieszkańców Ciutadelli, to także tradycja którą chronią i z której są bardzo dumni.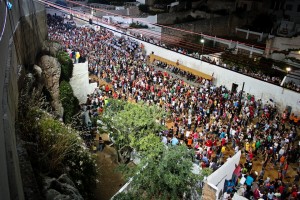 Ciekawe jest to, że podczas tych długich i intensywnych dni każdy może znaleźć coś dla siebie. Czy są to małe dzieci oczekujące na Sant Joan po raz pierwszy,  czy babcie i dziadkowie mający ciągle w pamięci minione piękne fiesty. Całe miasto znajduje energię, aby dotrwać do świtu ostatniego dnia, ciesząc się wzniosłymi momentami religijnej ciszy, a także szalonym śpiewem i tańcem.
Co roku na fiestę składają się:
"Foc i  Fum" –  Musical o fieście wykonywany na tydzień przed 24 czerwca.
Vetlla Des Be –  Noc Barana, Sobota przed 24 czerwca.
Dia Des Be –  Dzień Barana, Niedziela przed 24 czerwca.
Nit Des Festers –  Noc Ogniska, noc 22 czerwca.
Dissabte De Sant Joan –  Wigilia św. Jana, 23 czerwiec.
Dia De Sant Joan – Dzień św. Jana, 24 czerwiec.
Sant Joanet – Dzień po, 25 czerwiec.
Tak jak Święta Bożego Narodzenia w innych miejscach na świecie, w Ciutadelli Sant Joan jest najważniejszą datą w kalendarzu. Czy to upalna pogoda, czy stukot końskich kopyt na poboczu uliczek jadących na przygotowania, czy unoszący się w powietrzu dźwięk fletu Fabiol, czy rozpoczynający fiestę musical "Foc i Fum", kiedy nadchodzi dzień Sant Joan każdy to czuje.
---