---
Sense cap dubte, aquesta petita excursió fa que la llista curta de les millors experiències de l'illa té per oferir. Una aventura inoblidable i sorprenent que pot tenir a Menorca és fer la caminada relativament curta que hi ha de la platja de Macarella a la platja de Macarelleta, situades a la costa sud de l'illa.
---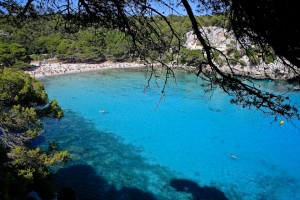 Macarelleta és una de les platges verges més famoses i fotografiades de Menorca. És una de les postals de l'illa,  aquest any  va aparèixer a la portada d'un suplement en una de les revistes setmanals d'Espanya, la revista  "Mia", que parlava sobre les millors platges d'Espanya. A banda del fet que les platges de Macarella i Macarelleta són al mateix temps les que apareixen en el fons de  la nostra pàgina web Menorca Blava, Macarelleta és també la protagonista de l'anunci de la cervesa de l'Estrella Damm, rodada a Menorca aquest estiu. I can assure you, that it will take your breath away on either a postcard or on the television, but has to be seen to be believed that this spectacular scenery really is that blue and that naturally beautiful. Els puc assegurar, que va deixar sense paraules a cada  postal o la televisió,  i també podem veure que realment  és un paisatge espectacular, que el color blau i  la bellesa  és compeltament natural.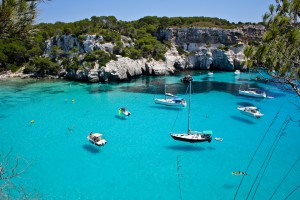 Les dues platges són molt pintorescos, és la badia que hi ha entre les dues  que fa que sigui el més impressionant, ja sigui vist des dels penya-segats a mesura que es pren el camí d'una platja a una altra, o nedar entre els vaixells enmig de l'aigua blava.  L'aigua és tan captivadora i clara que des d'una bona distància es poden veure les ombres dels vaixells en el fons del mar.
La claredat al nedar a la badia és notable.  Si posem el cap sota l'aigua, amb un parell d'ulleres ens sorprendrem de  l'activitat de peixos que neden tranquil.lament  per sota del seus peus. El viatge cap a Ciutadella, sigui caminant o nedant, val molt la pena, ja que és un camí llarg i sinuós.Si només es queden a la platja de Macarella, que per si sol és bastant popular, es perden la millor part, que és prendre el camí a Macarelleta. El camí amb forma gradual s'aixeca a la paret del penya-segat a l'esquerra quan està davant del mar, passa per unes coves naturals, i després amb el temps i a  poc a poc baixant des d'aquest arriba a  Macarelleta. Gairabé a tot el camí hi ha baranes de protecció,i  el camí és bastant fàcil per a qualsevol persona.  De fet, com més temps es prenguin per  absorbir-ho tot és com més ho agrairan! Com més vegades parint per observar el paisatge més val la pena.
Heu de tenir en  compte prendre la càmera, i si va en solitari, no dubteu a preguntar a un estrany que passa  a que els hi tiri la seva foto, sino despres es penediran de no tenir emmarcat aquest moment! L'únic consell que jo donaria és dur sandàlies o sabates resistents per a la seva seguretat i comoditat. Flip-flop no són antilliscants i desaprofitarà massa el temps mirant als seus peus i oblidarà el que està passant.
Sense cap dubte, aquesta petita excursió fa que la llista curta de les millors experiències de l'illa té per oferir.
Mes fotos en flickr Photostream.
---