---
125 lat "Ognia i dymu" jako rozgrzewka przez Sant Joan
---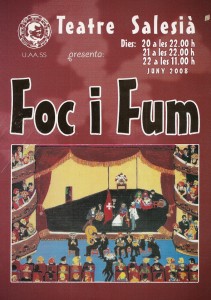 Tradycja fiesty Sant Joan świętowanej każdego roku w Ciutadelli sięga dawnych lat, jednak nikt z mieszkańców nie pamięta czasu kiedy fiesta nie rozpoczynała się musicalem "Foc i Fum". Sant Joan ma wiele oblicz, wydarzeń które prowadzą do dnia 24 czerwca. Każde z nich odbywa się o ustalonym czasie w danym dniu, i z każdym takim wydarzeniem wszyscy czują nadchodzące święto.
Odliczanie do fiesty rozpoczyna "Cincogema" – długi weekend, pięć tygodni przed 24 czerwca. Tradycyjnie i podobnie jak w Polsce świętowany z przyjaciółmi wspólnym jedzeniem, czy wyjazdami na świeże powietrze. Jednak dla większości mieszkańców odliczanie rozpoczyna się na tydzień przed 24 czerwca, gdy na afiszu pojawia się "Foc i Fum", sztuka o mieszkańcach Ciutadelli i tradycji Sant Joan.
"Foc i Fum" to lekka operetka z 1885 roku, w tym roku obchodząca 125 rocznicę premiery. Napisana w "Ciutadellenc", miejscowym akcencie języka Menorquín – dialektu języka katalońskiego, przez Joan Benejam Vives (1846-1922). Sztuka napisana głównie dla mieszkańców Ciutadelli, posiada oryginalną muzykę, piosenki, charakterystyczne postacie, wyróżniającą się scenografię ulic miasta, oraz oczywiście kostiumy adekwatne do epoki w której rozgrywa się akcja.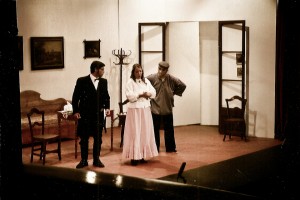 Historia to klasyczny miłosny trójkąt, pomiędzy Franciscą, córką miejscowej rodziny, Rafaelem burzliwie wyznającym jej swoje uczucia, ale wykazującym większe zainteresowanie fiestą niż kobietą oraz Bartomeu de Son Tica, farmerem i jeźdźcem na fieście Sant Joan. Jak to bywa w takich opowieściach, serce nieśmiałej Franciscy w końcu zostaje zdobyte przez Bartomeu.
Sztuka wystawiana jest na tydzień przed 24 czerwca, ostatnim dniem jest Neidziela – Dia des Be – Dzień Barana. W tym dniu podczas przedstawienia ma miejsce specjalny występ. Jeźdzcy z gildi Caixers odwiedzają teatr, a orkiestra gra "Jaleo", przewodnią pieśń fiesty. Jest to widowiskowe wydarzenie. Bilety na te przedstawienie są bardzo pożądane i trudne do zdobycia, a teatr zawsze pełny.
Zwyczaje Sant Joan odgrywane w sztuce pozostały takie same jak 125 lat temu. Niewiele współczesnych obchodów, zakorzenionych tak głęboko w historii pozostaje aktualnych po dziś dzień. Gusta się zmieniają, ale sentyment i znaczenie historii nigdy nie wychodzi z mody.
---