---
Byłam zaskoczona, jak bardzo mogę poczuć wakacyjny nastrój poznając bardziej intymnie te przepiękne miejsca.
---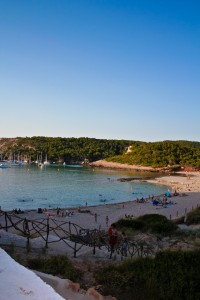 W te pracowite dni sezonu letniego na Minorce bardzo łatwo zatracić się w rutynie dnia codziennego, praca, dom, obowiązki, w końcu sen. Dokładnie tak samo codzienność wpływa na nas mieszkających na rajskiej wyspie, jak na każdą inną osobę pracującą i żyjącą w innym zakątku świata. Zbyt szybko mija ta najlepsza część roku, podczas gdy jesteśmy zajęci wszystkimi rzeczami które trzeba zrobić.
Z tą myślą, w ostatnim tygodniu zadecydowałam złapać (letnią) chwilę i złamać rutynę dnia codziennego letnim wieczornym pływaniem!
Każdego dnia po pracy, w te gorące i wilgotne Lipcowe dni, kiedy wszyscy wracają z plaży do domów, my udajemy się w odwrotnym kierunku. Chwile późnego popołudnia, kiedy słońce zaczyna schodzić nad horyzont, to moja ulubiona pora dnia. Nie mogę myśleć o niczym innym, tylko aby wskoczyć na motor z moim ukochanym, kostiumem i ręcznikiem pod pachą. I wyruszyć przed zachodem słońca na jedną z wielu przepięknych plaż w pobliżu. Woda o tej porze jest najcieplejsza, na plaży nie ma już tylu ludzi i jest bardzo spokojnie, a otaczająca przyroda w magiczny sposób dotknięta jest kojącym kolorem zachodzącego słońca. Byłam zaskoczona, jak bardzo mogę poczuć wakacyjny nastrój poznając bardziej intymnie te przepiękne miejsca.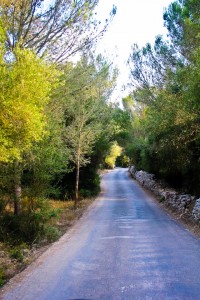 Jest to świetna i szybka ucieczka, możliwość odłączenia się kompletnie od wszystkiego, możliwość spędzenia beztroskich chwil razem na koniec męczącego dnia. Oczywiście powrotna jazda na motocyklu jest równie ekscytująca, kiedy słońce zmienia kolory chmur na purpurowy i różowy, by tuż przed zachodem pomalować wszystko na czerwono. Wiele dobrego można powiedzieć o podróży motocyklem, z wiatrem we włosach – ale doświadczenie będzie równie wartościowe, jeżeli wybierzecie się samochodem.
W ostatnim tygodniu odwiedziliśmy plaże w zachodniej części Minorki, Son Xoriguer na południu, La Vall na północy i sławną plażę Macarella, gdzie zjedliśmy kolację ze znajomym w Cafeteria Suzy. Polecam każdemu przejechać się choć raz w czasie wkacji na Minorce, na plażę w godzinach 18:30 – 21:30, zobaczyć zachód słońca i doświadczyć niepowtarzalnych wrażeń z wieczornego pływania. Ja tym czasem czekam na kolejną nasza eskapadę, sama nie jestem pewna w którym kierunku się udamy…
Zobaczcie krótkie video nakręcone podczas pływania.
Więcej zdjęć możecie zobaczyć na naszym koncie flickr.
---